Little known traffic laws in Michigan
This is the second blog post in my series of little known traffic laws, and today we're going to tackle the "Michigan left turn."
What is a Michigan left?
A Michigan left replaces each left turn with a combination of a U-turn and a right turn. This is a common design on Michigan roads. It is considerably less common in other states, as visitors to Michigan and sometimes Michigan drivers visiting other states find out (sometimes by a police officer with flashing lights in the background).
A North Carolina State University study found the Michigan left, which they referred to as "superstreet" traffic design, results in significantly faster travel times, and leads to a drastic reduction in auto accidents and injuries.
Many people wonder if they're allowed to make Michigan lefts in a turnaround at a red light.
Here's how the Michigan left works at a red light:
A driver can turn around on a red light once traffic clears.
But you cannot go straight through the red light.
Here's more information on Michigan lefts, according to the Michigan State Police Traffic Law FAQs.
Q. Regarding a " Michigan left," I know you can turn left onto the one way at a turn around. But is it illegal to go straight thru to a driveway across one way traffic?
A. Many people seem to be confused when it comes to what has been termed a "Michigan left." The following two graphics depict similar intersection and show the proper and improper use of a turnaround.
PROPER use of a turnaround or Michigan left: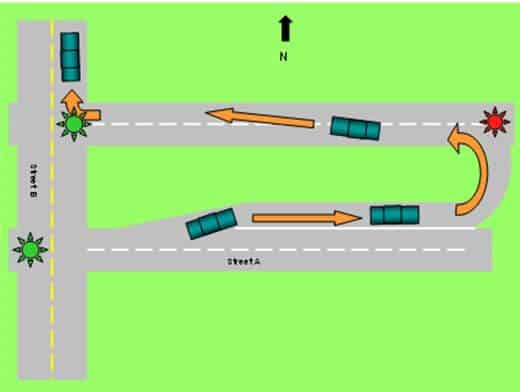 The driver is traveling east on street A and wants to make a left turn to the north onto street B, but there are no left turns allowed at the intersection. Traveling through the intersection and using the turnaround, the driver approaches the steady red light and makes a left on red when traffic permits. The driver then proceeds west on street A and makes a right turn to the north onto Street B.
Below is an IMPROPER left turn on red:
The driver is eastbound on street A and wants to turn left onto street C. When the driver enters the turnaround and stops at the steady red signal they cannot proceed straight through (north) onto Street C until the signal turns green.
In summary, there are two important factors to consider when going around a Michigan left:
If you're proceeding straight through a turnaround with a traffic light, you must wait for the light to change to green to proceed, otherwise you can turn on a red light once traffic has cleared.
Two lanes of traffic through a turnaround are only allowed when a traffic light is present.
For more information, MDOT provides further explanation on Michigan lefts here.