Michigan Lawyers Weekly lists top-reported verdicts in the state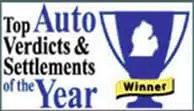 It's nice to  announce that attorneys from Michigan Auto Law once again recovered the  highest reported car accident verdict and truck accident verdict in Michigan for 2012.
Another law firm recovered the largest bus accident trial verdict, so we couldn't sweep the entire motor vehicle accident category, but we came very close with our bus accident trial verdict in Lansing at the end of last year (coincidentally, just last week the Michigan Court of Appeals upheld the economic wage claim last week for David's injured client).  These car and truck accident trial verdicts are based upon the  Michigan Lawyers Weekly year-end list of the top reported verdicts and settlements in the state.
It's also very nice to see is that for 16 consecutive years, an auto accident settlement for one of our clients has made the Michigan Lawyers Weekly list of top reported settlements in Michigan. This record surpasses any other personal injury law firm in Michigan.
Why do I write this?  It certainly isn't to sing our own praises.  In fact, it is quite the opposite.
Yes, the top verdicts and settlements are nice.  The awards, including the ones we received this past month that two of our attorneys are named in the top 100 in Michigan out of 50,000 lawyers are nice.
But where does it all come from?  It comes from really caring and wanting to do everything in our power to help the people we are entrusted with protecting.
All of our attorneys are continuing to do  everything in our power — with years of specialized experience and with tremendous resources invested in our cases — to help our clients after they've been injured in auto accidents or mistreated by insurance companies.
Here's some information about our top verdicts.
Top Michigan truck accident verdict
Attorney Tom James and I received a $2.55 million jury verdict for wrongful death on behalf of an 83-year-old man named Michael Shekoski in Macomb County. Mr. Shekoski was run over by a truck and killed as he was attempting to legally cross the road on his bicycle.
The lawyers defending the trucking company refused to accept any responsibility for the Mr. Shekoski's wrongful death. They said he caused his own death, and then they said it didn't really matter because an 83-year-old man isn't worth very much money. They offered $250,000 before trial and $500,000 when the jury was deliberating.
The Plaintiff is survived by his 10 children, 38 grandchildren and 18 great-grandchildren.
Here's more information about the case and the full article, as it was printed in Michigan Lawyers Weekly.
Top Michigan car accident verdict
Michigan Auto Law attorneys Kevin Seiferheld and Joshua Terebelo received a $1.485 million jury verdict for pain and suffering on behalf of a man rear-ended at a red light in Macomb County.
The Plaintiff, Vikin Hannosh, sustained a lower back injury. The defendant State Farm had a $100,000 liability policy limit with State Farm Insurance, yet at the time of trial, $0 was offered by the defense attorneys. The defense argued at the plaintiff's vehicle did not sustain enough damage to cause his back injuries.
Michigan Auto Law recovers top reported auto accident settlement in 2012
I'm also happy to announce that Michigan Auto Law attorneys received the top reported settlement in 2012  for a pedestrian car accident. I will write more next week about their award.
We look forward to another year of helping auto accident victims by offering them a special level of service;  making sure they're protected; that they receive their insurance benefits; and that they make the best recovery possible with a secure future.
Related information:
Recent Michigan Auto Law verdicts