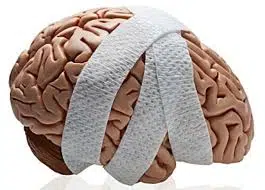 A recent important research article demonstrates that even a single traumatic brain injury (TBI) can lead to neurofibrillary tangles (NFT) and plaques, that are both consistent with advanced aging of the brain and ongoing neurodegeneration.
In other words, it's not just repeat traumas like athletes in the NFL experience anymore. A car accident victim with only one brain injury trauma can have very serious effects, including significant aging, according to this study.
The study is called: Widespread Tau and Amyloid-Beta Pathology Many Years After a Single Traumatic Brain Injury in Humans.
I've written before about how traumatic brain injury is linked to cognitive impairments such as Alzheimer's, depression and stroke.  But this study reveals how potentially dangerous a single car accident can be.
In the study, post-mortem brains from long-term survivors of just one single TBI (1 to 47 years of survival) were compared to uninjured, age-matched brains and examined for neurofibrillary tangles and amyloid plaques using immunohistochemistry and thioflavine-S staining.
The study found:
Neurofibrillary tangles were exceptionally rare in young, uninjured controls, yet were abundant and widely distributed in approximately one-third of TBI cases.
Ab-plaques were found in a greater density following TBI vs. controls.
Thioflavine-S staining revealed that while all plaque-positive control cases displayed predominantly diffuse plaques, 64% of plaque-positive TBI cases displayed predominantly thioflavine-S-positive plaques or a mixed thioflavine-S-positive/diffuse pattern.
The data demonstrates that:
"Widespread (neurofibrillary tangles) and (amyloid plaques) pathologies are present in up to a third of patients following survival of a year or more from a single TBI. This suggests that a single TBI induces long-term neuropathological changes akin to those found in neurodegenerative disease."