As part of its 'Once is Never Enough' program, Allstate is installing intersection signs urging motorists to 'look twice' to avoid accidents with motorcyclists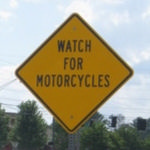 Allstate Insurance has started a motorcycle safety campaign called "Once Is Never Enough."
ONE, as Allstate calls the program, stands for the idea that, before entering an intersection, car and truck drivers must "look twice" for motorcyclists "because once is never enough."
To remind motorists of this vital, but easy-to-do, safety tip, Allstate is sponsoring and installing "WATCH FOR MOTORCYCLES" signs at dangerous intersections across the country.
Among the 30 cities to have received Allstate's motorcycle-safety conscious signs is Grand Rapids, Michigan.
According to Allstate Rider News, "On average, three motorcyclists are killed every day at intersections in the United States, and crash data reveals that motorcycle accidents happen more often in intersections than elsewhere, relative to the amount of time riders spend in them."
Our lawyers support the cause of improving motorcycle safety through raising awareness. In April 2012, a reckless Republican Michigan Legislature and Governor passed an ill-advised repeal of Michigan's nearly 40-year-old, lifesaving law requiring all motorcycle riders and passengers to wear helmets.

– Steven Gursten is an attorney who has been helping injured motorcycle accident victims in Michigan for nearly 20 years. He has received the highest motorcycle injury settlement in the state, according to published year-end reports by Michigan Lawyers Weekly.

Related information:
How to drive safely around motorcyclists in Michigan
Michigan Auto Law is the largest law firm exclusively handling car accident, truck accident and motorcycle accident cases throughout the entire state. We have offices in Farmington Hills, Detroit, Ann Arbor, Grand Rapids and Sterling Heights. Call (800) 777-0028 for a free consultation with one of our motorcycle accident lawyers.