It's no joke! Trucking companies are trying to get injured motorists  to sign these exoneration card waivers at the scene of a crash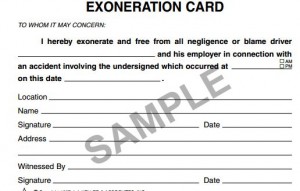 This one is really bad.  In fact, this new "Accident Report Kit" for truckers by J. J. Keller & Associates, Inc. takes egregiousness to another level.  I rank this with the stories – true by the way – of an insurance company agent who bought the widow of a man killed in a truck accident by a negligent trucker a new Buick, and the disgusting new "full and final" release that Diaryland Insurance Company is sending to injured motorists in Michigan on the mini tort release.
The description for this exoneration kit claims that its purpose is to "help drivers quickly collect and report accident information." But it's purpose is not to "collect" information.  The purpose of this exoneration kit is designed to help negligent truck drivers and their companies avoid responsibility and liability if they caused a crash and injured someone.
Accident victims can sign these cards in order to "exonerate and free from all negligence or blame driver and his employer in connection with the [truck] accident…"
Unfortunately, these kits and exoneration cards are popping up all over the place. I've seen Fed Ex Ground drivers that are now getting accident victims to sign such waivers at the crash scene. And just last week, I even saw the exoneration cards in a small mom-and-pop truck company crash kit from Detroit.
How does someone who was just hurt know?  Aside from the people who are clearly dazed and confused at an accident scene – and this happens all the time as I constantly have clients tell me they remember nothing from an accident scene or even an emergency room, even though there are EMS run sheets, a police interview, and even a history taken by a nurse and ER doctor, let's move past this first issue of someone's ability to process information accurately at the scene.
The question really is, how does someone know who signs this release of liability card?  There has been no download of a ECM (black box) to show what the driver was doing before the crash.  There has been no examination of the log books or trip receipts to see if this driver was dangerously fatigued.  And what happens when a trucker knows he or she is in serious trouble – maybe one of the 100,000 to 200,000 truckers today who is estimated to be driving tractor-trailers while under the influence of illegal drugs, controlled substances or alcohol?
Signing one of these exoneration cards is just about the worst thing an unknowing, injured accident victim can do, but of course it is the best thing that can happen to a negligent trucking company or a trucker under the influence, who is pushing the card in an accident victim's face and thrusting a pen in her hands.
And all they have to do is purchase these truck driver accident exoneration kits for only $4.40  each. The kit even comes with two exoneration cards – perfect for the driver who causes two accidents!

– Steven Gursten is  past president of the American Association for Justice Truck Accident Litigation Group. He was named a Michigan Lawyers Weekly Leader in the Law for his work promoting  national truck safety, and a Lawyer of the Year for a record truck accident injury settlement in Michigan.
Michigan Auto Law exclusively handles car accident, truck accident and motorcycle accident cases throughout the entire state of Michigan. We have offices in Farmington Hills, Sterling Heights, Ann Arbor, Grand Rapids and Detroit. Call (248) 353-7575 to speak with one of our attorneys today.