How to find a safe helmet that can save your life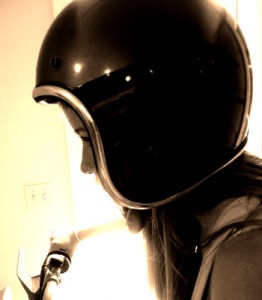 Today I'd like to continue the discussion about choosing the right motorcycle helmet. Wearing a motorcycle helmet in Michigan is more important now than ever, as the law requiring motorcycle helmet use has been repealed.
We're going to start from the top down with the motorcycle helmet. As Brittany says, nothing is worse than a life-altering head or traumatic brain injury that could have been prevented with one piece of protective equipment — your motorcycle helmet.  Here are five steps to finding the perfect helmet:
Find a DOT-approved helmet: Any helmet that is not DOT (Department of Transportation) approved will not do. No matter what the outer shell of your helmet is made of, you can make sure it's trustworthy to provide impact protection if you find a DOT approval marked somewhere on the helmet.
Make sure your helmet has a layer of EPS foam underneath the shell: This serves to absorb the energy from an impact without passing it to your head. The helmet comfort liner is designed differently in every brand, make and model. But one thing stays the same; it will adjust to the individual shape of your head over time. Keep in mind, generally all motorcycle helmets get more comfortable as you continue to wear them.
Keep a tight fit: Always make sure you start with a very good, tight fit to ensure that the motorcycle helmet never gets too loose.
Get the right chin strap: Your helmet must have a chin strap, and it must be strong, well secured to the shell, and strap tight enough under your chin so the helmet won't come off — even if you pull extremely hard on it.
Take your time while shopping. Remember, you want a motorcycle helmet that will prevent head injury, be comfortable every time you ride and look good (IN THAT ORDER!). So take your time when choosing the right helmet. Don't hesitate to ask for help if you are unsure. Your life depends on it.
– Steven Gursten is an attorney who has been helping injured motorcycle accident victims for nearly 20 years. He has received the highest motorcycle injury settlement in the state, according to Michigan Lawyers Weekly year-end verdicts and settlements reports. Steve is regularly quoted in the media regarding motorcycle safety and motorcycle law issues and is available for comment.
Michigan Auto Law is the largest law firm exclusively handling car accident, truck accident and motorcycle accident cases throughout the entire state. We have offices in Farmington Hills, Detroit, Ann Arbor, Grand Rapids and Sterling Heights. Call (248) 353-7575 for a free consultation with one of our motorcycle accident attorneys.