Trial lawyers must listen to everyone, even crazy people!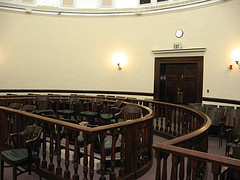 I enjoy reading Seth Godin. I am a regular reader of his blog. He's a fun read, and I think he makes enormous sense.
On April 9, 2012, Seth wrote a blog entitled "Is everyone entitled to their opinion?" This is part of what he wrote:
"If these two standards [lack of standing and no credibility] sound like precisely the opposite of what gets you on talk radio or active in anonymous chat rooms, you're right. Running your business or your campaign or your non-profit or your sports team based on what you hear on talk radio is nuts."
He's right, of course.
Except if you are a trial lawyer.
If you are a trial lawyer, you better be aware of what is being said on talk radio. In fact, you better listen to the most obnoxious talk radio you can on a regular basis. You better listen to the people who hate your guts.
In our increasingly politicized and polarized, post-Citizens United world (thank you, once again, to the John Roberts Supreme Court for this body blow to our democracy), I am beyond thrilled when I can land a fair judge. Remember, judges and justices have to run for office in Michigan, and that leads to all sorts of nasty issues regarding bias, political ideology and incompetence on our bench and supreme court.
But getting a fair jury these days is a lot harder.
After all, we live in an age of insurance company and "tort-reform" propaganda. And, after 20 years of these efforts, after tens of millions of dollars spent, and after lots of these fake " Astro-turf" front organizations have been set-up and funded by the insurance industry, big tobacco and sadly lately by the chamber of commerce, getting a fair jury in the age of "tort reform" isn't easy.
And that's the point. And that brings us now back, full circle, to Seth's blog on ignoring the nut jobs.
Why trial lawyers must listen to all jurors, even the crazy ones
So if you are a lawyer and picking a jury for someone who truly is depending on you, you better listen to everyone. Every single juror's opinion – even the ones you suspect are the nut-jobs on the chat rooms and on talk radio matters on a jury. Because at the end of the case, that person will be deliberating on the future of your client's life. So when you are picking a jury, you better talk with and engage everyone. Everyone has an opinion, and it likely isn't yours.
You better listen to it.
The saying we all grew up with is that you have to see something to believe it. But that really isn't true. The new neuroscience shows the opposite is actually true. You have to believe it to see it.
When the jury doesn't believe in pain and suffering
And that now brings me to the problem of being a trial lawyer representing people seriously injured in auto accidents in Michigan. Studies show that approximately one quarter of our population today just doesn't believe in awarding what the law calls compensatory damages (what you and I call money) for pain and suffering. A better way to describe pain and suffering damages is asking: "what is the value placed on a person's human losses on the things that have been taken away from them by another person's negligence or carelessness?"
Our civil justice system is predicated on people who are injured because of another person's negligence or mistake with being compensated for these human losses. But what happens to our civil justice system when 25 percent of the people on your jury today don't even believe in awarding money for these losses and harms?
What happens when one of the most basic tenets of our civil justice system is not accepted by 25 percent of the population?
How can an injured person ever have a fair day in court when 25 percent of the potential jury pool doesn't even think they have a right to be there asking for pain and suffering compensation in the first place?
The result, sadly, is your client will either get far less compensation than she should have for her pain and suffering and injuries, or she will get nothing at all. And one or two jurors who feel very strongly about it, such as those who visit chat rooms or call on talk radio, can swing a jury.
As a trial lawyer, you better believe everyone's opinion matters. Especially if at least 25 percent of the potential jury pool (or 25 percent or more of the people on that jury) doesn't believe in awarding pain and suffering damages as compensation to someone injured in an auto accident, no matter how badly that person is injured or how negligent the other driver was in causing the car accident that injured them.
Trial lawyers only have one bite at the apple
And there are no second chances. People can't come back to court. In trial, there is only one bite at the apple.
So as a trial lawyer, you better listen to talk radio. You better hear what the people are saying who hate your case, and your guts. You better identify those jurors who can't be fair, no matter what the law is or how the judge instructs them that they must apply the law.
You have one chance to represent your client and get a fair result. Just one chance. And to reach a fair outcome, you better identify those jurors who can't be fair, no matter what the evidence and facts are, because they just don't see it to believe it. They "believe" your client does not have a right to be there at all, so they will never "see" the evidence at trial showing why they are deserving of a fair and full verdict.
As a trial lawyer, you better believe everyone is entitled to their opinion.
– Steven M. Gursten is a trial lawyer and head of Michigan Auto Law. He is president of the Motor Vehicle Trial Lawyers Association and has received the highest verdict or settlement for a car or truck accident case in 2008, 2009, 2010 and 2011, according to Michigan Lawyers Weekly.
– Photo courtesy of Creative Commons, by Ken Lund
Related information:
"Tort reform" – A failed experiment in legal social engineering
Michigan too "tort reformed" already
Michigan Auto Law exclusively handles car accident, truck accident and motorcycle accident cases throughout the entire state of Michigan. We have offices in Farmington Hills, Sterling Heights, Ann Arbor, Grand Rapids and Detroit. Call (800) 777-0028 to speak with one of our Michigan injury lawyers.