"The need for speed:" when modifications transform moped into motorcycle, No-Fault disqualification may be result for unwary moped riders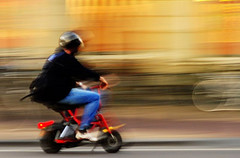 Spend an hour or two on college campuses in Ann Arbor, East Lansing or Grand Rapids, and you'll surely notice the mopeds. Look closer, though, and you'll see something else. These aren't the mopeds you may have seen from time to time when you were in school. Today there are souped-up mopeds that go extra fast.
Yes, I'm sure these probably are a blast to ride. But in the event that a tragedy strikes, these souped up mopeds have dangerous consequences for their riders. Modifying a moped to satisfy one's "need for speed" may come at a price that moped owners can't afford.
Bottom line: If a moped is modified to go fast enough to qualify as a motorcycle, but the owner of the "moped-turned-motorcycle" doesn't insure it as a motorcycle by purchasing mandatory motorcycle insurance, then, in the event of a crash with a car or truck, the owner of the "moped-turned-motorcycle" will be disqualified from receiving Michigan No-Fault benefits. This is because the owner is now operating an uninsured motorcycle.
Serious injury is always a disaster personally. But if you are found to be driving a moped/motorcycle without the required insurance, it will be a financial disaster as well.
Being disqualified from receiving No-Fault benefits would deprive the owner of the medical care, treatment and rehabilitation he or she needs and would otherwise receive under Michigan No-Fault to put her life back together.
This is even more devastating if he or she suffers a traumatic brain injury because of not wearing a helmet — under the mistaken belief that operating "just a moped" and not a motorcycle is not dangerous enough to warrant a helmet.
Given Michigan's recent repeal of our helmet law this month, which allows motorcyclists to legally ride without a helmet if they meet certain requirements, the temptation is certainly present.
Moreover, even if the owner of the modified-moped could secure the medical care and treatment she needed, without No-Fault benefits, she would have to pay out of pocket, which would likely bankrupt her.
The medical costs associated with collision-related injuries, such as traumatic brain injuries, can last a lifetime and be catastrophically expensive, running into the hundreds of thousands and, even, millions of dollars.
Grand Rapids, Michigan 'Traffic Talk'
What got me thinking about the No-Fault consequences of moped speed-modification is MLive writer Troy Reimink's Traffic Talk column entitled "What are the rules for mopeds in Michigan?"
Mr. Reimink refers to mopeds as "half-bike-half-motorcycle" and notes that mopeds can be modified to "easily exceed[] 30 mph," which means the moped is "then classified as a motorcycle and is subject to a different set of laws."
As a Michigan motorcycle attorney, I recognized immediately that the blurring of the line between mopeds and motorcycles was not without legal significance.
From moped to motorcycle
Modifying a moped so that it is capable of traveling at speeds in excess of 30 m.p.h. is all it takes to transform a moped into a motorcycle.
Under Michigan Motor Vehicle Code, a moped is defined as "a 2- or 3-wheeled vehicle which is equipped with a motor that … cannot propel the vehicle at a speed greater than 30 miles per hour on a level surface." (MCL 257.32b) It also says that the moped must have less than 50cc engine and not travel more than 30 mph.
And, under Michigan's No-Fault Law, a "[m]otorcycle does not include a moped …" (MCL 500.3101(2)(c)) It also states that in order to be considered a motorcycle, it must have a 50cc engine or larger.
However, the Secretary of State makes clear that a moped ceases to be a moped and becomes a motorcycle when it is modified to the extent that it goes faster than 30 mph:
"Michigan law (Section 257.32b) defines a moped as a unit that meets all of the following:
The engine does not exceed 50 cc's piston displacement;
The engine is rated at 2.0 horsepower or less;
The power drive system does not require the operator to shift gears; and
The top speed is 30 miles per hour or less on a level surface.
If a unit exceeds any of these criteria, it is classified as a motorcycle."
No-Fault disqualification for mopeds in Michigan
Here is where things get tricky.
Moped owners are not required to buy insurance, but motorcycle owners (and registrants) are. (MCL 500.3103(1))
As such, if a uninsured moped owner gets injured in a crash with a car or truck, then she is not penalized for her uninsured status by being disqualified from receiving No-Fault benefits.
Not so for the uninsured motorcycle owner (or registrant). Under Michigan's No-Fault Law, an uninsured motorcyclist is specifically and unequivocally barred from receiving No Fault benefits. (MCL 500.3113(b))
And, therein lies the "trap" for the unwary moped enthusiast.
Moped modification must be accompanied by behavior modification: If a moped is transformed into a motorcycle, then its owner must comply with the No-Fault insurance requirements attendant to her vehicle's newly transformed status.
– Steven M. Gursten is a motorcycle attorney and head of Michigan Auto Law. Steve has received the highest motorcycle injury settlement in the state, according to Michigan Lawyers Weekly. He frequently appears in the media on motorcycle safety and the helmet repeal, and is available for comment.
– Photo courtesy of Creative Commons, by _Tophee_

Related information to protect yourself:
Help after a motorcycle accident
Michigan motorcycle accident types
Gov. Snyder signs repeal of Michigan's motorcycle helmet law
Michigan Auto Law is the largest law firm exclusively handling car accident, truck accident and motorcycle accident cases throughout the entire state. We have offices in Farmington Hills, Detroit, Ann Arbor, Grand Rapids and Sterling Heights to better serve you. Call (800) 777-0028 for a free consultation with one of our Michigan motorcycle attorneys.