Accident lawyer says violating Michigan's texting ban can cost you fines, or jail time if you cause death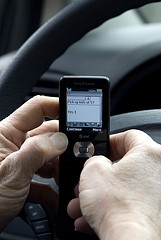 It's Distracted Driving Awareness Month and we're continuing our efforts to keep talking about the extreme dangers of texting while driving. One question our accident lawyers frequently receive from our clients and loved ones is, what are the penalties for texting while driving, given Michigan's law that bans texting behind the wheel?
As a refresher, the Michigan texting while driving ban prohibits reading, typing or sending text messages using a wireless two-way communication device in a person's hand or lap while driving a car. Here's the statute.
The Michigan texting law only imposes fines on drivers. But there are other factors that come into play when people are hurt or killed due to distracted driving car accidents. These factors fall under existing Michigan criminal and civil laws.
If you are caught texting while driving in Michigan
Under the Michigan texting ban, violators face a fine of $100 for the first offense and $200 for subsequent offenses. Texting while driving is classified as a primary offense, which means you can be pulled over and ticketed based on a text messaging offense alone.
Also, a texting ticket does not come with points, and will not become part of a driver's permanent record.
If you are a trucker and you are caught texting while driving in Michigan
According to a recent Federal Motor Carrier Safety Administration ban (this is different from Michigan's texting bans), commercial truck drivers are not allowed to use cell phones while driving, period. This means no texting, no talking on speaker, no surfing the Internet and no talking on the phone.
There are Federal civil penalties up to $2,750 for each offense. Commercial truck and bus companies will face a maximum penalty of $11,000.
States will also suspend a truck driver's commercial drivers license (CDL) after two or more serious traffic violations and disqualify a trucker for multiple offenses.
If you kill someone in an accident caused by texting and driving in Michigan
If you kill someone in an accident that is caused by texting and driving, you will face fines and your license will be revoked for a period of time. You also face a one-year maximum of jail time, under the charges of a moving violation causing death. Prosecutors say that texting while driving falls under this current law.
The victim's family can also sue you for pain and suffering damages for your negligence. This is part of a civil lawsuit, and falls under Michigan's existing auto accident laws if the accident involved a motor vehicle.
A Lapeer, Michigan, man who police say caused a fatal crash while texting and driving was sentenced to just one month in jail and 12 months of probation in May 2011. This was the first case of its kind since the state passed the texting while driving ban in August 2010, according to published reports.
Also, Jeremy Griffin — who slammed his snowplow into a 19-year-old while allegedly distracted driving, killing him at the scene after his legs were amputated by the Muskegon crash — was placed on probation for six months in February 2012. He was also ordered to perform 60 hours of community service and to pay $850 in fines, fees and costs.
What can we do to prevent texting while driving car crashes?
Given that penalties for injuring and killing people in drunk driving car accidents are much more harsh, and that studies show distracted driving slows braking and reaction time as much as, if not more than, driving a car while drunk driving, perhaps it's time for our law makers to consider stiffening the civil and criminal penalties for hurting and killing people in distracted driving car accident crashes.
According to Car and Driver Magazine, in a study comparing the reaction driving time of texting while driving and drunken driving, texting slowed reaction braking time by 17 percent compared to drunk driving.
While laws need to be made stronger, implemented and enforced, it is also up to us as Michigan drivers to take personal responsibility for our actions and make a commitment to just put the phone down.
The penalties and consequences are just not worth sending that text.
– Steven Gursten is an accident lawyer and head of Michigan Auto Law. He president of the Motor Vehicle Trial Lawyers Association. Steve frequently writes and speaks on distracted driving and Michigan auto laws, and is available for comment.
– Photo courtesy of Creative Commons, by Oregon DOT
Related Information:
Fatal Muskegon distracted driving car accident
Distracted Driving Awareness Month: One text or call could wreck it all
10 things to know if you've been injured in a car accident
Michigan Auto Law exclusively handles car accident, truck accident and motorcycle accident cases throughout the entire state of Michigan. We have offices in Farmington Hills, Sterling Heights, Ann Arbor, Grand Rapids and Detroit. Call (800) 777-0028 or to speak with one of our Michigan accident lawyers.