Dangers posed by 'crotch rocket' motorcycles continues to explode, studies show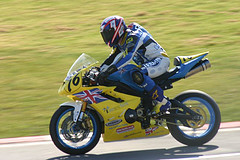 "Crotch rocket" motorcycle riders are four times more likely to die in a crash than riders of other motorcycles, according to the Insurance Information Institute (III). This is consistent with my own experience as a motorcycle accident lawyer, where we have a far higher percentage of attendant care claims for motorcycle accident victims who suffered injury riding crotch rockets.
That's also why the January 2012 online publication, "Motorcycle Crashes," reports that riders of "crotch rockets" (also called "supersports"or supersport motorcycles) have:
"[D]river death rates … nearly four times higher than for drivers of other types of motorcycles."
Believe it or not, that news is worse than it sounds.
First, even though "crotch rockets" or "supersports" make up less than 10 percent of all registered motorcycles, they account for "more than 25 percent of rider deaths," according to the Insurance Institute for Highway Safety's "Status Report – Special Issue: Motorcycles."
Second, motorcycle riders in general already have an increased chance of dying or being seriously injured in a crash.
According to the National Highway Traffic Safety Administration's October 2011 "Traffic Safety Facts" for motorcycles:
"Motorcyclists were 25 times more likely than passenger car occupants to die in a crash … and five times more likely to be injured."
Now, couple those facts with the alarming 21 percent increase in motorcyclist deaths in Michigan (according to Michigan Traffic Crash Facts), and it's easy to see why "crotch rocket" motorcycles continue to be the most dangerous of all the ways to seriously hurt yourself on our roads.
Need for crotch rocket speed
What makes "crotch rocket" motorcycles so appealing is also what makes them so dangerous: speed. Just type the keywords "crotch rocket motorcycle" into YouTube and you'll see plenty of examples of what I mean.
Riders are drawn to "crotch rockets" because such "supersports" motorcycles have far more horsepower than other motorcycles, with speeds of up to 190 mph or more.
The whole point of buying a "crotch rocket" is to go fast. The motorcycles are light-weight, "aerodynamically styled," and they are "built on racing platforms and … modified for street use," according to the III.
However, the downside to all of that built-in speed is its propensity to hasten the death and serious injury of "crotch rocket" riders.
The III has said that speed is one of the biggest contributing factors to fatal crashes involving "crotch rocket" or "supersports" motorcycles: "Speed was cited in 57 percent of supersport riders' fatal crashes …"
The crotch rocket: An attractive nuisance?
Statistics show that "crotch rocket" motorcycles are particularly dangerous for younger riders.
"Among fatally injured [motorcycle] drivers, … drivers of supersports [crotch rockets] were the youngest–with an average age of 27, according to the III.
Michigan's motorcycle helmet-less future?
As if it couldn't get worse for crotch rocket/supersport riders in Michigan, here's the really nasty part: as Michigan moves towards its repeal Michigan's nearly 40-year-old life-saving motorcycle helmet law, now waiting for Governor Snyder to sign, the new proposed legislation will hit those injured riding crotch rockets even harder than others.
No more unlimited no fault PIP insurance benefits if they are seriously injured and involved in an accident with a motor vehicle. The new legislation proposes limits on PIP no fault insurance for motorcycle riders, and even mandatory comparative negligence of 35 percent just for riding a motorcycle. Take a look at why the No-Fault reform bill is extremely punitive to motorcyclists' rights.
The worst part is this that this will force hundreds of motorcycle riders and owners to be shifted from no fault, to Medicaid and far worse medical care for traumatic brain injuries, neck injuries, back injuries, and other common motorcycle accident injuries.
It would do Michigan's lawmakers well to consider how the death and injury rates for "crotch rockets" discussed above will likely skyrocket when youthful riders no longer are required to wear motorcycle helmets in this state.
– Photo courtesy of Creative Commons, by Ronnie Macdonald

Related information to protect yourself:
"Crotch rocket" motorcycle death rates continue to rise in Michigan
Michigan motorcycle helmet repeal – how many will die?
Michigan Auto Law is the largest law firm exclusively handling car accident, truck accident and motorcycle accident cases throughout the entire state. We have offices in Farmington Hills, Detroit, Ann Arbor, Grand Rapids and Sterling Heights to better serve you. Call (800) 777-0028 for a free consultation with one of our Michigan motorcycle accident lawyers.