Lets lower insurance rates by giving our insurance commissioner the power to regulate profit-gouging, not taking away valuable benefits; and let's have real enforcement by the MI Secretary of State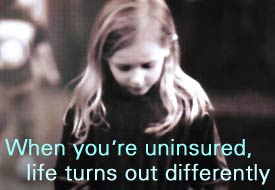 Yesterday, I wrote about the most dangerous, unfair loophole in our Michigan No-Fault law today. A quick recap: under Michigan No-Fault law, a completely innocent driver is required to pay the medical bills and wage loss of the "at fault" driver who causes an auto accident — even when the "at fault" is a drunk driver who has caused serious personal injury.
And this loophole preys on those who largely belong to a group that's already struggling financially: Michigan's approximately 1,520,000 drivers who have no auto insurance. Often the reason these people drive "bare" or without insurance is because of cost.
How can we fix this problem? Certainly 1.5 million people in Michigan driving on our roads without auto insurance is not good for anyone. It is devastating for the people they injure in auto accidents. It is devastating for themselves if they are hurt in an auto accident.
The devastating penalty of being injured and uninsured
An uninsured driver under Michigan law has no PIP coverage, and therefore, no legal right to vital No-Fault benefits, such as lifetime medical care, lost wages and in-home nursing services (attendant care), even when they are completely innocent and injured by someone else. Worse still, they are also barred from suing the "at fault" driver who causes a car accident, a draconian measure that our state courts have already upheld as constitutional. So the penalties for driving without auto insurance in Michigan are very harsh indeed.
If you are injured by an uninsured driver
If you are an insured driver and injured by an an uninsured driver, there is often no source of legal recovery for your injuries and pain and suffering. Yes, you can file a lawsuit against the at-fault, uninsured driver for his or her personal assets. But our own auto lawyers find that, with most people without sufficient personal net worth to compensate a person that they have injured, it is often only a paper judgment.
Just how many uninsured drivers are there in Michigan?
In Michigan today, there are approximately 1,520,000 uninsured drivers. According to USA Today's September 11, 2011, story, "One in seven drivers have no insurance."
In Michigan, cities that have been ravaged by tough economic conditions, such as Detroit, Flint, and Pontiac, the numbers of uninsured drivers on the road approach or surpass 50 percent of all drivers on the road, according to published reports.
Unemployment and uninsured driving
Victims of Michigan's economic meltdown are also very likely victims of Michigan's punitive No-Fault law.
As more people lose their jobs, more people cannot afford No-Fault auto insurance, and, thus, more people join the ranks of Michigan's "uninsured drivers."
The Insurance Research Council confirmed the cause and effect relationship between unemployment and being unable to afford auto insurance in its January 21, 2009, news release "Economic Downturn May Push Percentage of Uninsured Motorists To All-Time High."
There is "a strong correlation between the percent of uninsured motorists and the unemployment rate" such that "[a]n increase in the unemployment rate of one percentage point is associated with an increase in the uninsured motorist rate of more than three-quarters of a percentage point."
Consider for a moment Michigan's record unemployment rate. We went from just 4.6 percent unemployment in January 2001 to 9.3 percent in December 2011 (according to the Bureau of Labor Statistics).
It is no wonder that nearly one out of five Michigan drivers are being financially foreclosed from No-Fault auto insurance.
What to do about Michigan uninsured drivers?
For the people who can afford auto insurance, the good news is, there is protection in case of a crash with an uninsured driver: uninsured and underinsured motorist coverage (UM/UIM). This coverage provides a valuable source of legal recovery when someone is injured in a car accident by another driver who is uninsured or does not have adequate insurance. As I always say, any auto insurance policy sold in Michigan today without UM and UIM is not enough to protect you and your family.
But what about the drivers who simply cannot afford Michigan No-Fault insurance, and therefore put themselves and all other Michigan drivers in jeopardy every time they get behind the wheel?
I've written often about the real reasons why auto insurance is so expensive in Michigan. The reason is that insurance companies are allowed to reap record-breaking profits here, and we have an insurance commissioner that allows this instead of regulating excessive profit margins for these insurance companies.
I also blame the Secretary of State's office. With computers, there is no reason to allow this public crisis of uninsured drivers on our roads. They can do far more to solve this problem if there was any political will to do so.
Do I have sympathy for uninsured drivers?
Yes and no. I feel terrible for uninsured drivers who are completely innocent, such as in my real-life example above, where they can be stopped at a red light, hit by a drunk driver, paralyzed for life, and they cannot recover one dime for their lifetime of pain and suffering and losses, because our law is so punitive that it bars uninsured drivers from even suing a negligent drunk driver.
But I also see the other side nearly every week. I feel terrible for the real people who are seriously hurt by uninsured drivers, and for whom I can do nothing to help them for their injuries, human losses, and pain and suffering, because the driver who caused the auto accident is uninsured, has no assets, and the injured person did not have uninsured motorist coverage to protect them.
Every year, the lawyers in my law firm handle a number of pro-bono wrongful death auto accident cases, mostly for people who have lost loved ones to uninsured drivers. And as a No-Fault insurance lawyer in Michigan, I see the human toll that is otherwise completely hidden from the public.
The news does a terrible job of warning people of the problem of uninsured motorists. And insurance agents don't warn their clients about the dangers of 1.5 million uninsured drivers in Michigan (who are largely immune from lawsuits), as they fail to inform people to purchase uninsured and underinsured motorist coverage to properly protect them and their families.
Hence the absurd situation I see daily of people who wanted to do the right thing, who have $1 million dollars in liability coverage — which is great if they ever cause an auto accident — but then have no or only a minimum of $20,000 in uninsured motorist coverage. These people could have paid the couple dollars more, sometimes the cost of a movie ticket and popcorn, to have $500,000 or $1 million in uninsured and underinsured motorist coverage.
So, the real answer is that we need to fix this problem. It is time our state politicians (and fault lies here more with the Republicans in Lansing then the Democrats), to stop coddling the insurance companies and to allow our insurance commissioner the power to regulate profit-gouging by insurance companies in this state, as they do in the vast majority of states in the U.S.
Next, with more people insured and the cost of auto insurance lower, let's start having our secretary of state make sure people are insured and they stay insured (stop playing the temporary binder game with these ridiculous storefront insurance agencies selling a couple months of auto insurance to people). We can then avoid all of these problems, and insurance becomes what it is meant to be — a safety net when an unforeseen and devastating event occurs.
Related Information:
You need to buy uninsured motorist coverage – NOW!
3 potential cases in Michigan for auto accidents
Michigan Auto Law is the largest law firm exclusively handling car accident, truck accident and motorcycle accident cases throughout the entire state. We have offices in Farmington Hills, Detroit, Ann Arbor, Grand Rapids and Sterling Heights. Call (248) 353-7575 to speak with one of our Michigan insurance attorneys.