Michigan insurance lawyer says "balance billing" by doctors already paid by No-Fault not allowed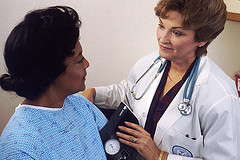 Last week, in one of my auto accident cases, my client told me she just received a bill from her own treating doctor. The doctor practices in a big office in Farmington Hills, Michigan and does see a number of auto accident injury victims, so I'm hoping this is a one-time problem with his billing company, and not something they are doing intentionally.
If it is intentional, this doctor has a problem. Because "balance billing" is not allowed in Michigan in car accident cases when these doctors are already paid by No-Fault. But it is still quite common. If you've been injured in an auto accident, and your doctor or hospital has been paid by your No-Fault auto insurance company, that doctor cannot then send you a balance bill.
The case directly on point is McGill v Automobile Association of Michigan, 207 Mich App 402 (1994).
What to do when you receive a remainder balance bill from your doctor?
Under the Michigan No-Fault insurance laws, a doctor can only charge what are the reasonable and customary charges for the service he or she provides. When there is a genuine dispute, which does happen from time to time, luckily this won't affect you. A dispute only concerns the doctor and your auto insurance company.
In other words, you should not be paying one dime out of your pocket for any disputed remainder balance or balance billing that you receive from your doctor's office.
Steps to resolve a balance billing from a medical provider that has been paid by No-Fault
1. Contact your own insurance company immediately and provide them a copy of the bill.
2. Contact your doctor's office, and give them the name your claim number and insurance adjuster.
3. After this, either the medical biller will resolve the claim with the claims adjuster, or sometimes a No- Fault lawsuit will be filed by the medical provider.
4. Okay, here's where it may get complicated (and sound a little scary): if a lawsuit for PIP benefits needs to be filed, you are the one that the doctor or hospital has to sue in a No-Fault lawsuit to get paid. Please understand, although scary, it is part of a legal fiction. Your own auto insurance company will hire a No- Fault lawyer to defend the no fault lawsuit for you. Your auto insurance company will also pay any amount of money that may eventually be required to resolve the lawsuit, either through settlement or verdict.
Again, you are being sued, but it is your insurance company who will defend and pay anything disputed that is found reasonably necessary. if you are paying one dime out of your pocket, you are doing something wrong. You need to contact an experienced No-Fault insurance lawyer immediately.
I sometimes feel when I write on No-Fault insurance topics, I need to add a warning that this may get technical or unfortunately have a bit of legalese. Unfortunately, this blog is one of those instances. If you have a question, feel free to call me, or one of the insurance lawyers here like Jeff Bussell or Mike Shaffer, all of whom are smart and experienced attorneys and will be happy to try to help you and explain your No-Fault rights.
And, if this blog post on balance billing and No-Fault is being read in the future, remember the No-Fault law can change (and probably will later this year in 2012). Make sure to call or send an e-mail to make sure this is still the current state of the Michigan No-Fault law.
I wish you a speedy recovery from your auto accident and injuries.

– Steve Gursten is one of the nation's top insurance lawyers handling auto accident lawsuits. He is head of Michigan Auto Law and president of the Motor Vehicle Trial Lawyers Association. Steve has received the highest verdict in the state for a car accident or truck accident victim in 2008, 2009, 2010 and 2011, according to Michigan Lawyers Weekly.
Related information to protect yourselves:
Your Michigan No-Fault insurance benefits
Car accident injuries that need immediate medical attention
How does the No-Fault law apply to my car accident?
Michigan Auto Law is the largest law firm exclusively handling car accident, truck accident and motorcycle accident cases throughout the entire state. We have offices in Farmington Hills, Detroit, Ann Arbor, Grand Rapids and Sterling Heights to better serve you. Call (800) 777-0028 for help from a Michigan insurance lawyer.