Michigan truck attorney says truck accident injuries and deaths rise for the first time in four years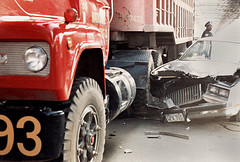 Last year, truck accident fatalities in U.S. highway crashes increased 8.7 percent in 2010. This is the first increase in four years, according to the annual report by the National Highway Traffic Safety Administration (NHTSA).
As a truck attorney, former president of the American Association for Justice truck accident lawyer litigation group and current president of the Motor Vehicle Trial Lawyers Association, this statistic sadly doesn't surprise me. I know that truck companies are pushing the boundaries now more than ever before. This can be anything from pushing their truck drivers to drive past regulated hours, rushing the pre-trip inspection, or turning a blind eye to truck drivers who have caused accidents in other states and hiring them because they cost less to employ.
Here are more very sad statistics from the latest NHTSA report:
o Truck accident deaths increased by 8.7 percent – 3,675 people died in truck accidents in 2010, an increase of 295 truck accident deaths from the 2009 total of 3,380.
o Truck occupant fatalities increased by 6 percent – 529 truck occupants died in 2010, from 499 in 2009.
o Truck accident injuries increased 12 percent – The number of people injured in truck accidents rose to 19,000 in 2010, from 17,000 in 2009.
For more information, take a look at this recent article on the increase in truck accident fatalities.
More people are dying and becoming seriously injured in truck accidents across the country. So why is this happening?
In the article above, a NHTSA administrator claimed that the administration is trying to figure out what's behind this uptick. Some sources from the trucking industry chalked it up to more miles being traveled due to a slowly improving economy. I question this, but really, it doesn't mean squat. Just because commercial trucking companies are becoming busier, does not give them the right to violate rules of the road and endanger everyone.
As a truck attorney, I believe the reason for this increase in truck accident fatalities and injuries is clearly because truck companies are breaking safety rules and pushing the envelope as far as they can in the name of their bottom line.
The article also mentioned that these truck accident fatality statistics are a central issue in the legal battle over the driver hours of service rule, with motor carriers contending that the existing 11-hour rule is safe and critics saying it should be reduced to 10 hours or less.
Think about this. The trucking industry wants their truckers behind the wheel for at least 11 hours, in order to get loads to their destinations quicker, thus raking in more dough. Eleven hours is a hell of an amount of time behind the wheel. Even when truckers obey the law, they are bound to become drowsy and make serious errors. Now think about all of the drivers who are forced by their employing truck companies to break the law and drive past 11 hours per shift. Not too surprising that more people are dying and becoming injured in truck accidents.
It's time the government enact stiffer rules and punishments for the truck companies that choose to ignore safety and break the law.
Think about another really important point: It's safe to say that the majority of these truck accident deaths and injuries are preventable. If truck companies were safer, then our families would be too.
Related information to protect yourself:
Support for injured truck drivers
Trucking industry – breaking laws and putting drivers in danger
Michigan Auto Law exclusively handles car accident, truck accident and motorcycle accident cases throughout the entire state of Michigan. We have offices in Farmington Hills, Sterling Heights, Ann Arbor, Grand Rapids and Detroit. Call (800) 777-0028 or to speak with one of our Michigan truck attorneys today.