Truck accident attorney says in Michigan, it's likely worse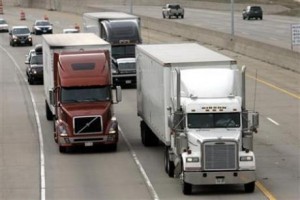 I had a friend and truck accident attorney from Texas send me an article from the Houston Chronicle about unsafe trucks. It said that Texas inspectors pulled one out of five commercial vehicles — including tractor-trailers and buses — off the road this year because they were unsafe.
The Department of Public Safety in Texas reported that of 331,505 commercial vehicles inspected since Jan. 1, 2011, a total of 66,189 trucks and buses were deemed unsafe. Inspectors also removed 12,301 commercial drivers from the road for safety violations.
And 15 percent of the fatalities and wrongful deaths are due to unsafe commercial motor vehicles, according to the story.
In case you are wondering why, as a Michigan truck accident attorney, I am talking about truck accident deaths from another state, it's because if the same effort were made in Michigan, it would likely be worse. I'd be confident that the number, per capita, of unsafe trucks is far higher here.
Why? Michigan does not have punitive damages laws, so trucking companies can get away with hiring dangerous truck drivers and not maintaining their fleets according to Federal Motor Carrier Safety Regulations.
Punitive damages are additional monetary damages awarded to a personal injury victim when the defendant (trucking companies in this case) acted with recklessness. They are a way of penalizing the wrongdoer and setting an example, so as to prevent future accidents of the same kind.
Texas has punitive damages laws. And Texas still has a colossal problem with unsafe trucks causing fatal truck accidents and serious personal injuries.
But because Michigan does not have the "big stick" that the threat of punitive damages affords, trucking companies simply do not have to pay when they negligently cause truck crashes.
In other words, the civil penalties for Michigan motor carriers are not as high as they are in other states that have punitive damages. In Michigan, all the trucking company has to pay to the truck accident victim is the insurance policy limits. And then they can go on doing business and causing more truck accidents due to cutting safety corners and breaking the law.
The biggest issues with trucks taken off the roads in Texas were truckers who were not recording their hours properly (read tired truckers driving beyond regulated hours), and mechanical problems with brakes, tires and lights.
Imagine how bad it is in Michigan?
See my example from last week, where I wrote about a Michigan trucker who had his license suspended nearly 40 times, and was still allowed to drive here.
– Steven Gursten is a partner of Michigan Auto Law and one of the top truck accident attorneys in the country. He is past president of the American Association for Justice Truck Accident Litigation Group, and has received the top-reported jury verdict in Michigan for a truck accident case. Steve was named a Michigan Lawyers Weekly Leader in the Law for his work to promote national truck safety.

Related information to protect yourself:
Help for truck drivers (who blow the whistle)
What to do after a truck accident
Michigan Auto Law exclusively handles car accident, truck accident and motorcycle accident cases throughout the entire state of Michigan. We have offices in Farmington Hills, Sterling Heights, Ann Arbor, Grand Rapids and Detroit. Call (248) 353-7575 to speak with one of our truck accident attorneys today.