Michigan personal injury attorney shares "Worst Toys" list to help keep kids safe during the holidays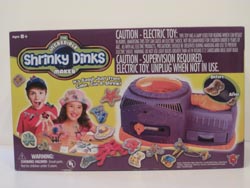 As a Michigan personal injury attorney who wrote the book "How to Keep your Children Safe," I'm often asked by parents and friends about child safety.
With the holidays quickly around the corner, I wanted to share this great list of the 2011 10 "Worst Toys."
For instance, in the photo is one of the 2011 "Worst Toys," the Incredible Shrinky Dinks Maker. This toy has the potential for burn and shock injuries. It has an oven that uses a 120 volt house current and shrinks a "shrinky dink" in a chamber with a 60 watt light bulb! Clearly, a product like this doesn't lend itself well to children.
The list is from an organization called W.A.T.C.H. (World Against Toys Causing Harm, Inc.). Please refer to this list during your holiday shopping.
Our injury attorneys wish you very safe and happy holidays!