Michigan auto accident attorney gives 9 safety tips to prevent pedestrian-car accidents from occurring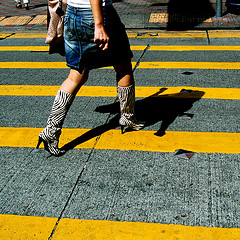 Car accidents involving pedestrians are more common than you may think. Especially in a college town like Ann Arbor (where my firm has a law office on Main Street), pedestrians being hit by cars and suffering personal injuries sadly happens quite often. According to the most recent statistics available, 131 people died in pedestrian accidents in 2010, and 1,883 people were injured.*
Of these pedestrians killed, 36 percent were killed while crossing the streets. This may be part of the reason Ann Arbor instituted its new pedestrian safety ordinance.
The question is whether this new Ann Arbor safety ordinance – meant to protect pedestrian traffic – is now causing MORE accidents and injuries?
The Ann Arbor pedestrian safety ordinance requires motorists to stop for pedestrians approaching crosswalks. It was designed to stop drivers from speeding past the pedestrians standing at the edge of crosswalks, waiting for a break in traffic to cross safely.
The reason it's becoming controversial is because early reports suggest the ordinance is causing rear-end car accidents at crosswalks throughout Ann Arbor, especially on Plymouth Road and other locations that have been in the news.
According to published reports, there have been at least eight rear-end auto accidents in Ann Arbor that were caused by drivers stopping for pedestrians since the city started enforcing its pedestrian safety ordinance in mid-September.
Ann Arbor officials are saying that as drivers are yielding to pedestrians at crosswalks, the drivers behind them are not paying attention, and not stopping within a safe and clear distance, thus causing these rear-end crashes.
Annarbor.com reported that Ann Arbor Mayor John Hieftje and the City Council recently directed the city's staff to examine new engineering solutions for crosswalks throughout the city, including along Plymouth Road. The city's staff is expected to report back in December about possible solutions, including installation of new pedestrian-activated crossing signals.
Tips to avoid pedestrian car accidents from a Michigan auto accident attorney
Below are some tips pedestrians must keep in mind, to avoid getting hit by a car. You can also take a look at our Ann Arbor car accident lawyer resource center.
1. Use pedestrian crosswalks.
2. Observe traffic lights and be aware of the crossing signals. But just because a signal says walk, does not mean it is safe to do so. Check for cars before crossing.
3. Always look left to right when crossing.
4. Don't assume a driver sees you. Just because you see a driver, does not mean the driver sees you. Make sure the driver sees you before crossing, if it is safe to do so.
5. Cross the street in a straight line, never in diagonal
6. Do not jaywalk.
7. Stay on the pavement.
8. Be visible. If you're walking or exercising at night, make sure you're wearing reflective clothing and shoes.
9. Walk facing traffic: If there is no sidewalk and you must walk on the side of the road, choose the side where you are facing oncoming traffic. This gives you the best chance to see traffic approaching closest to you and take evasive action when needed. Please try to avoid walking on the road.
Whether this new pedestrian safety ordinance will continue to cause a spike in car accidents, or like the roundabouts installed in West Bloomfield, require drivers to become used to and familiar with them first, remains to be seen. In the meantime, be careful when you're crossing the street.
– Steve Gursten is one of the nation's auto accident attorneys. He is head of Michigan Auto Law and president of the Motor Vehicle Trial Lawyers Association. Steve frequently writes about driving safety and is available for comment.
– * Source Michigan Traffic Crash Facts
– Photo courtesy of Creative Commons, by *sean
Related information to protect yourselves:
Tips to protect your kids from pedestrian accidents
Do I have a car accident lawsuit?
Michigan Auto Law is the largest law firm exclusively handling car accident, truck accident and motorcycle accident cases throughout the entire state. We have offices in Farmington Hills, Detroit, Ann Arbor, Grand Rapids and Sterling Heights to better serve you. Call (248) 353-7575 for a free consultation with one of our Michigan auto accident attorneys.