Michigan Lawyers Weekly article on traumatic brain injury diagnosis with diffusion tensor imaging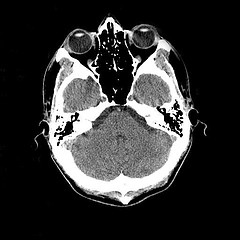 Last week, I was on the front page of Michigan Lawyers Weekly in a very important story about traumatic brain injury diagnosis and imaging technology called diffusion tensor imaging (DTI).
The story was called Brain scan key for closed-head injury.
The topic, helping lawyers and juries understand the enormous challenges posed by many people who suffer brain injury, is critical. I'm glad the story was given this attention.
TBI is very serious injury. It is very real, yet it is very difficult for Michigan brain injury attorneys to prove in court. This leads to brain injury accident victims being routinely under-compensated as insurance companies choose to defend these cases more aggressively in court. Finally, the medicine can be difficult for attorneys to understand, as many emergency rooms and doctors routinely miss the signs and symptoms of brain injury, which are also undetected by traditional forms of imaging tests like MRIs and CT scans. This led to the story by Michigan Lawyers Weekly on DTI as a way for brain injury attorneys helping TBI victims to show otherwise "invisible" injuries.
DTI is a scan that helps assess traumatic brain injuries and closed-head injuries after car accidents. To be specific, it's a form of MRI (magnetic resonance imaging) that measures the way water moves in several directions through the brain's white matter.
I told Michigan Lawyers Weekly that although DTI is not enough to win a traumatic brain injury lawsuit on its own, it can be used as an important tie-breaker to corroborate evidence.
My exact quote was:
"You can never just point to an image and say, 'There, that's my case. But what you can do a good job of is matching up the objective testing like the DTI, with the neuropsychological findings. Let's say the neuropsychologist findings show frontal lobe and temporal lobe damage. If the DTI shows defects or abnormalities in the same areas, then it's consistent with what the treaters are finding and with what the lay witness, the doctors and the plaintiff are saying is wrong with him. It all becomes consistent and reinforces one another."
Defense attorneys like to contend that imaging studies of the brain, such as diffusion tensor imaging, is too new to be reliable in court. But it is reliable and has now passed repeated Daubert challenges. In fact, it seems that every week a new study is reported on the use of brain imaging such as DTI or PET. I was actually the first brain injury attorney to use diagnostic imaging studies in the courtroom in a 2004 U.S. District Court trial, Lloyd v. First Choice Trucking (see "Low-impact car crash results in $2.5M verdict." My client had suffered a brain injury, but there was no physical damage to his car. Of course, the defense and its hired guns were contending that there was no injury to the person, because there was no injury to the car. The jury awarded a $2.5 million verdict to my client.
I had the opportunity to lecture on this topic in September, 2011 to the Michigan Association for Justice at its No-Fault Institute Seminar in Southfield, Michigan. As I said then, great results for TBI accident victims ultimately come down to having a strong case and credible evidence.
Diffusion tensor imaging is an important part of proving that "invisible injury" case to get past the attacks from the defense lawyers and the insurance companies in court.
– Steven M. Gursten is a brain injury attorney and partner of Michigan Auto Law. He is a member of the Executive Board of the American Association for Justice Traumatic Brian Injury Lawyer Litigation Group. Steve received a trial verdict of $5.65 million for a Michigan TBI victim; the largest reported car accident verdict in the state for the year.

Related information to protect yourself:
Symptoms of traumatic brain injury

"Mild" traumatic brain injury faqs
What brain injury attorneys should know about fatigue and TBI
Michigan Auto Law is the largest law firm exclusively handling car accident, truck accident and motorcycle accident cases throughout the entire state. We have offices in Farmington Hills, Detroit, Ann Arbor, Grand Rapids and Sterling Heights. Call (248) 353-7575 to speak with a Michigan brain injury attorney today.