Michigan brain injury lawyer supports proposed legislation aimed at preventing concussion injuries to student athletes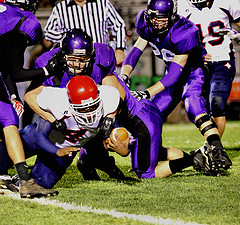 Last week, SB 716 was introduced in the Michigan Senate. It requires public schools to adopt concussion and head injury information to protect student athletes and children with concussions.
Increased awareness has sharpened the spotlight on traumatic brain injuries (TBI) and concussions, and as a result, public schools and coaches from the littlest leagues to the NFL are now looking at the issue of brain injuries and sports.
Introduced by State Senators Proos (Berrien County, Cass County, and Van Buren County, Michigan) and Pappageorge (Oakland County, Michigan), new legislation is being introduced to inform and educate coaches, student athletes, and parents about providing guidelines for managing sports-related concussions for young athletes. This legislation is based upon similar legislation in other states, and from the Centers for Disease Control and Prevention toolkit on sports-related injuries.
The aim – to make sure schools across Michigan are on the same page when addressing concussion injuries is – extremely important. Michigan has fallen behind other states when it comes to educating and protecting school and college athletes. As a brain injury lawyer, I speak at many national brain injury conferences for lawyers and doctors. This topic has been a hot one for many years now, as well as the concern about better protecting young student athletes, like the high school football player who gets sent back into the game even after he has his "bell rung."
In states such as New Jersey, a physician's approval for a student to return to the field after sustaining a head injury is required, as is safety training to prevent concussion and recognize TBI in young athletes. In fact, after the State of Washington passed its Lystedt Law after a "second impact" case against a school district for ignoring concussion in a young student athlete, approximately 30 states have passed similar laws aimed at educating schools, coaches and parents about the dangers and warning signs of concussions.
What is concussion and how does it affect students?
The CDC toolkit describes high-school concussion as a type of traumatic brain injury caused by a bump, blow or jolt to the head that can change the way the brain functions. Concussions can also occur from a fall or a blow to the body that causes the head and brain to move quickly back and forth.
Concussions and "mild traumatic brain injury" are usually not life threatening, but the lingering problems of memory loss, severe headaches and depression can lead to lifelong problems.
Most concussions occur without a loss of consciousness. In the not too distant past, the protocol for taking care of knocked-down athletes with no visible sign of injury was encouraging them to brush it off and get back on the field. In some cases, this led to well-publicized and tragic deaths of young athletes.
When professional athletes take heavy hits to the head, there are now daily updates on their condition. In recent years, based in large part on the news about professional football and hockey players, such as Detroit Red Wings Kocur and Probert, the well-being of Michigan student athletes has begun receiving more scrutiny.
Up until now, this increased scrutiny has come only from parents.
As a lawyer that helps a large number of people who suffer brain injury, especially those who suffer TBI after auto accidents, I can say that this attention is surely warranted. The CDC reports that from 1997 to 2007, the number of emergency room visits for sports-related concussions had doubled for children ages 8 to 13. It more than tripled for high school-age athletes, including soccer players and cheerleaders. That all adds up to about 135,000 sports-related and recreation-related traumatic injuries a year.
The CDC's formation of a panel of experts to talk about possible guidelines for pediatricians on how to diagnose and treat concussions underlines the seriousness of this health problem.
As the nation (and Michigan) catches up to our current understanding of concussion and sports, I urge lawmakers in Michigan to take another step forward and pass this bill. Michigan needs something that covers prevention, risk and treatment of sports-related concussions and other brain injuries.
In the meantime, take a look at this program offered by Henry Ford Health Systems. It's an online test you can take so in case of a future concussion, neuropsychologists can access the information: Baseline Testing for Concussion.
Looks like Royal Oak High School also has a baseline concussion screening program.
– Photo courtesy of Creative Commons, by JamieL.WilliamsPhoto