Car accident victims with TBI fatigue easily and take longer to recover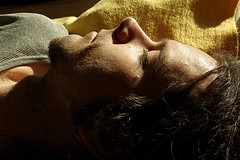 I recently blogged about better ways for brain injury lawyers to help TBI survivors injured in car accidents.
Here are some interesting facts from a presentation I did for the Traumatic Brain Injury Lawyer Litigation Group for American Association for Justice in Philadelphia. These are important facts about the connection between fatigue and brain damage that brain injury lawyers should know.
o First and most importantly: Brain damaged patients tend to fatigue easily.
o Easy fatigability can also be a chronic problem, and many brain damaged patients are fatigued most of the time.
o Once fatigued, brain injury victims take longer to recuperate than normal people.
o Some patients get fatigued so quickly that they can only work for brief periods of time.
o Depression and frustration are often intimately related to fatigue in brain damaged patients.
The reason I'm discussing fatigue relating to TBI, is because fatigue evidence can be more persuasive than other types of evidence in TBI lawsuits, such as neuroimaging. There are also several tests that brain injury lawyers can use to better detect fatigue, such as the Universal Work Skills Evaluations.
In real life, someone who suffers from significant fatigability cannot hold a job. It is part of our challenge as attorneys representing people with brain injuries to be able to make these significant deficits understandable in the courtroom.
– Steven M. Gursten is a brain injury attorney and partner of Michigan Auto Law. He is a member of the Executive Board of the American Association for Justice Traumatic Brian Injury Lawyer Litigation Group. Steve received a recent trial verdict of $5.65 million for a Michigan TBI car accident victim; the largest reported auto negligence verdict in Michigan for the year.
– Photo courtesy of Creative Commons, by symmetry_mind

Related information to protect yourself:
Michigan traumatic brain injury law
What is traumatic brain injury?
Brain injury lawyer tip: The significance of seizures following TBI
Michigan Auto Law is the largest law firm exclusively handling car accident, truck accident and motorcycle accident cases throughout the entire state. We have offices in Farmington Hills, Detroit, Ann Arbor, Grand Rapids and Sterling Heights to better serve you. Call (248) 353-7575 for a free consultation with a brain injury attorney.