Michigan auto accident law firm awards sweepstakes winner $1,032 to buy No- Fault insurance for one year as part of its distracted driving awareness campaign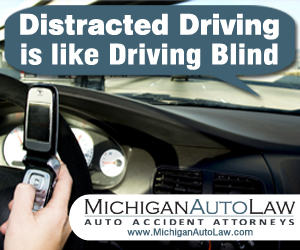 I'm happy to announce that our distracted driving awareness campaign ended yesterday and that Jasmin Prewitt of Flint, Michigan is the winner. Jasmin was one of more than 1,300 people who participated in our three-week safety campaign on our Facebook page.
As a lawyer who focuses on helping people injured in car accidents and truck accidents around Michigan, I've watched as more and more preventable injuries have occurred because of texting in recent years. We created the video below on distracted driving to raise awareness, and ask our friends to make a pledge not to text when driving:

People who text and drive are 23 times more likely to be involved in a car accident, according to a study by the Virginia Tech Transportation Institute. As I said, I've seen first-hand in my own cases as an accident lawyer that texting is causing far too many preventable traffic crashes. I also see it practically every day I'm on the road, as I watch distracted drivers in the cars around me. We all felt compelled to get the word out about the dangers of distracted driving.
Again, congratulations to Jasmine, who just won a $1,032 check for participating in our first Michigan Auto law safety campaign!
The reason we chose to give $1,032 is because the average auto insurance premium in Michigan is $1,032.02, according to the Insurance Institute of Michigan's December 2010 data.
This campaign wasn't only about distracted driving. An important part of it was to also educate Michigan drivers about just how many people are driving without insurance today. For instance, about 19 percent of all Michigan drivers have no auto insurance, according to a news release by the Insurance Research Council. In cities like Detroit, or in Flint, Michigan, that number is estimated to approach 50 percent of drivers on the road without auto insurance!
Our lawyers hope the winner will use the money to buy the right kind of auto insurance for the year, including uninsured and underinsured motorist coverage (UM/UIM). UM is a very low-cost additional auto insurance coverage that can protect you and your loved ones if you're in a car accident with a driver who does not have auto insurance. UIM protects you and your family if you are injured by a driver who is underinsured, and where injuries you've suffered are worth more than the insurance policy limits of the driver who causes the car accident.
Please keep reading our blog and visiting our Facebook page at www.facebook.com/MichiganAutoLaw for future safety awareness sweepstakes, including our next awareness campaign coming in November.
Thanks to everyone who participated in this safety campaign. You all helped us spread the word about the true dangers of distracted driving.
– Steven M. Gursten, partner of Michigan Auto Law, is recognized as one of the nation's top accident lawyers. Steve has received the highest verdicts and settlements for car accident or truck accidents cases in 2008, 2009 and 2010, according to Michigan Lawyers Weekly. He frequently blogs about distracted driving, and No-Fault insurance, and is available for comment.

Related Information to protect yourself:
Distracted driving accidents – they can happen to you
10 things to know if you've been injured in a Michigan car accident
Finding the best accident lawyer in Michigan
Michigan Auto Law is the largest law firm exclusively handling car accident, truck accident and motorcycle accident cases throughout the entire state. We have offices in Farmington Hills, Detroit, Ann Arbor, Grand Rapids and Sterling Heights to better serve you. Call (248) 353-7575 for a free consultation with an one of our Flint auto accident lawyers.