Insurance attorney Steve Gursten explains on NPR Michigan Radio how insurance companies are the only ones who benefit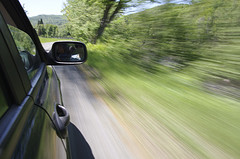 I was interviewed on Michigan Watch last week as an insurance attorney for a story on the consequences to our No-Fault law if legislators enact proposed changes. The story aired on Michigan Radio in Ann Arbor, Detroit and Flint.
Here's the full story, Consequences of eliminating mandatory No-Fault auto insurance.
The proposed misguided insurance bills would cap medical expenses for auto accident victims to dangerously low dollar amounts — not nearly enough to pull through lifelong injuries like traumatic brain injury or spinal cord injury. Those who need this help the most would be punished under these bills, which really amount to political giveaways by the state GOP to the insurance companies.
As I told Lester Graham, if the Michigan legislature really wants to lower insurance rates in the state – which is the excuse many legislators are making for dismantling the greatest benefit to our No Fault law – there's a better, easier, simpler and smarter way to do it: limit insurance companies' profits. They are currently the nation's highest.
In Michigan, we have a law that requires us to buy No-Fault auto insurance, but we don't look at the amount of money insurance companies charge us to buy this insurance. Our state insurance commissioner, unlike insurance commissioners in most states, does not have the power to prevent insurance companies from charging excessive amounts. The result has been excessive profits for insurance companies selling insurance – insurance that we are forced by law to buy.
This isn't free market capitalism. To the insurance companies making the highest profit margins in Michigan over any other state in the country, overcharging us for something they know we have to buy, it seems more like communism.
And these new proposals will make these excessive insurance company profits even higher.
If mandatory No-Fault insurance in Michigan is made optional, (they call this "PIP Choice" to better spin it and make it sound better to the same public that will be hurt the most by it), the result is people who desperately need help and protection will lose it and the costs will be transferred to us as taxpayers because auto injury victims will be forced to turn to Medicaid.
No one thinks about the worst-case scenario, or that they will one day be severely injured in an auto accident in Michigan. Trust me, as an insurance lawyer who does nothing but help people injured in car accidents, I can tell you that many people just won't ever consider it can happen to them. They'll just buy the cheapest No-Fault insurance. So much for "PIP Choice."
The Angoff study found that Michigan insurance companies lead the nation in profits. Throwing those who need No-Fault benefits the most only helps fatten the bottom lines of insurance companies at the expense of Michigan residents. This is (shamefully) politics at its worst, as the real solution is disregarded by politicians hoping to help the insurance companies that donate to their campaigns.
It's not just Michigan insurance attorneys who want to save Michigan No-Fault
The comments on the online version of the Michigan Radio story really illustrate that it's not just insurance attorneys who see the true value of Michigan No-Fault benefits and our law as it currently reads.
Take Mike, for example:
"I am a quadriplegic person, the result of an auto accident. The quality of life of a person like me is an abstraction to the average person but to me it is the reality of my life. The PIP insurance has been of tremendous help to me and my wife. This coverage has helped me to deal with the many physical, psychological, and financial aspects of this most life-altering condition. To dismantle no-fault auto insurance for some possible savings would be devasting for us and for those who will be injured in weeks, months and years to come."
And Lynn Brouwers:
"Thank you for the excellent coverage of this issue. I have worked for almost 30 years with survivors of bad car crashes. My work experience at Mary Free Bed Rehab Hospital, Spectrum Health, and Rainbow Rehabilitation Centers and my volunteer experience with the Brain Injury Association has given me a window into the life experiences of thousands of injured people. People in Michigan need this coverage; without it we will be forcing thousands of people onto Medicaid and the welfare roles of our already challenged state health funded insurance plans."
And John Gwynn Prosser II:
"We need to preserve protect and strengthen the No-Fault Law, not dilute benefits, this system is funded by drivers for drivers, these bills are solely for the benefit of insurance companies who want larger profits."
And Dendronous:
"Michigan drivers pay about $12 more a month for auto insurance than the national average. For this we get priceless coverage for those of us who are severely injured in an auto accident. No one can adequately appreciate how crucial this truly is until it happens to you or to your loved one. My husband was injured in an accident 5 years ago and our health insurance could not have begun to cover everything he needed. He is a quadriplegic, which is afwul, but given these circumstances, he is relatively healthy due to the excellent care he receives from our auto insurance. We would have been bankrupted within the first couple of years had we not had this coverage even though we had saved all our lives. Believe me, if this happened to us, it could happen to anyone. Making changes to Michigan's no-fault auto coverage would be a disaster."
I urge people to stop this disaster and contact their state representatives. Tell them you are against PIP "reform" and "PIP Choice."
Just a reminder, our distracted driving awareness campaign is ending soon. Visit us at Facebook.com/MichiganAutoLaw, where you can enter to win a $1,032 check — enough money to buy Michigan No-Fault insurance for one year to properly protect you and your family.
– Steven Gursten is recognized as one of the nation's top insurance attorneys handling serious auto accident cases and No-Fault insurance litigation. He writes about the importance of Michigan's No-Fault law, and is available for comment.
– Photo courtesy of Creative Commons, by psmithy

Related information to protect yourself:
Michigan No-Fault insurance reform: Bad for drivers, great for insurance companies
Your Michigan No-Fault insurance benefits
3 potential cases after an auto accident
Michigan Auto Law is the largest law firm exclusively handling car accident, truck accident and motorcycle accident cases throughout the entire state. We have offices in Farmington Hills, Detroit, Ann Arbor, Grand Rapids and Sterling Heights to better serve you. Call (248) 353-7575 for a free consultation with one of our insurance attorneys.