Brain injury lawyer explains how Krohn v. Home-Owners will save auto insurance companies money — while devastating the hopes of people with TBI and spinal cord injuries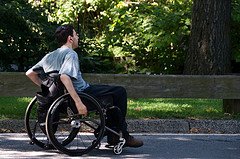 I was interviewed last week by the Associated Press on the new Michigan Supreme Court case of Kevin Krohn v. Home-Owners Insurance Co. This is a terrible case. I fear it will have devastating consequences for people with severe traumatic brain injury (TBI) and spinal cord injuries throughout Michigan.
To begin with, this case is also judicial activism at its ugliest. In Krohn, the four conservative Republican Michigan Supreme Court justices yet again overturned 20 years of precedent with the decision, giving Michigan's auto insurance companies a new tactic to fight cutting-edge medical treatment – that they can now use for all new medical procedures.
After a motorcycle accident turned Kevin Krohn into a paraplegic, he received stem cell surgery in Europe as part of his treatment. The treatment helped, as Krohn regained control over his bowel and bladder functions, as well as sensation below the fracture to his T-10 vertebrae.
But Krohn's No-Fault insurance company disputed the medical bills for the stem cell treatment and filed a lawsuit that went all the way up to the Supreme Court. The court ruled that Krohn's insurance company ultimately did not have to cover those costs – because the treatment was not "reasonably necessary" under Michigan law.
This unfortunate court precedent now leaves many car accident victims with brain injuries or spinal cord injuries who need experimental surgery or medical care without any help – or hope. When I speak at conferences with other brain injury lawyers, I hear that brain injury experts are very excited with treatment developments for TBI and spinal cord injury that are coming now and in the future.
It's my personal belief (as Michigan lawyer handling No-Fault insurance lawsuits for nearly 20 years) that the Krohn case is a deadly weapon that courts and insurance companies can now use in many different areas of law to prevent people from getting any type of medical treatment the insurance companies don't want to pay for.
With Krohn, the court has judicially-created a tough new medical standard that was never intended under the Michigan No-Fault Act as it was written by the Michigan Legislature. In fact, these four justices have also gone against the expressed will of the voters in Michigan – who resoundingly defeated this exact proposal when they voted "No" on Proposal C by 61-39 percent.
As Justice Diane Hathaway wrote in her dissent: "The majority effectively asserts that it was unreasonable as a matter of law for (Krohn) to have pursued the only procedure that could possibly prevent him from being a paraplegic for the rest of his life."
How tragic that most of the public does not see the abuses that are being wreaked on our civil justice system by the Court's new majority, even as the people perpetuating this new and outrageous judicial activism are those, like Chief Justice Robert Young, who proclaim themselves to be strict textualists.

– Steven M. Gursten is a brain injury lawyer and partner of Michigan Auto Law. He is a member of the American Association for Justice Traumatic Brian Injury Group and the Sarah Jane Brain Project. Steve received a trial verdict of $5.65 million for a TBI victim; the largest reported automobile negligence verdict in Michigan for the year.
– Photo courtesy of Creative Commons, by Ed Yourdon
Related information to protect yourself:
McCormick, Michigan auto accident law survives… for now
Steps TBI victims must take following a car accident
3 potential cases for Michigan auto accidents
Michigan Auto Law is the largest law firm exclusively handling car accident, truck accident and motorcycle accident cases throughout the entire state. We have offices in Farmington Hills, Detroit, Ann Arbor, Grand Rapids and Sterling Heights to better serve you. Call (248) 353-7575 for a free consultation with a brain injury lawyer.