Why lawyers should never take negligence for granted in bicycle accident cases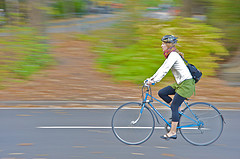 I was sent an interesting article that appeared in the New York Times last week titled, "A new breed of lawyers focuses on bicyclists' rights." The article focuses on a select few bicycle accident lawyers who are fighting back against the perceived police prejudice against cyclists.
The article dealt more with lawyers taking on tickets and citations against bicycle riders. But as a lawyer who has handled many Michigan bicycle accident cases involving serious injuries after bike riders were hit by cars, I can say I've seen this same bias in police in investigations.
Lawyers who handle cases for injured bicyclists need to be aware of two things that resonate from this article:
1. Police reports are often wrong and often erroneously blame the bicyclist. This stems in large part from the misunderstanding many police officers have about cyclist rights when investigating a bicycle accident.
2. In bike accident cases, there's always a strong predisposition to blame the bicyclist. Any injury lawyer that thinks otherwise should spend an afternoon focus grouping these cases as I have done, and hearing some of the things that potential jurors say. Many of our jurors as motorists, feel that cyclists are "in the way" of traffic," and should be able to avoid cars on the road. Even when the car hits the biker, jurors tend to find fault with the cyclist just for being on a bike.
These are dangerous cases for lawyers who are inexperienced in handling bicycle accident injury cases. I've seen attorneys who aren't familiar with bike accident liability arguments get "no caused" on liability, even when they assumed negligence was very clear. Even when it's undisputed that the car hits the bike, lawyers should never take negligence for granted in these cases.
Although the New York Times article spent a lot of time on police issuing tickets to cyclists for not keeping right, cyclists are also getting tickets for moving out of the designated bike lanes – even when they need to avoid obstacles such as cars or branches.
Bicycle accident lawyer tip: Conduct extensive voir dire on jury attitudes towards bicyclists
The bike accident cases I've worked on don't really apply to tickets. My cases involve injury car-bicycle collisions, where I believe some police, and many people, tend to blame the cyclists. The point to all this of course is that while cyclists have the same rights as everyone else on the road, many people harbor an unfounded bias against cyclists because these motorists, police officers, and others aren't cyclists. And everyone has heard horror stories about how dangerous cycling on roads is, or knows someone who was seriously injured – even when it wasn't their fault.
A lawyer representing an injured cyclist will have to voir dire extensively to make sure there is no predisposition to side with the motorist to the detriment of his or her injured cyclist client.
It's nice to think about a Michigan one day, where most of the population cycles. But our current infrastructure makes that a pipe dream at the moment, and there are almost no bike lanes to allow people to safely bike to work. While it's nice to think about such a world, I wouldn't recommend it in cities such as Detroit or Sterling Heights.
My advice to any bicycle rider who has been injured is to talk with an experienced Michigan bicycle accident lawyer who is familiar with and can work to undo the harmful effects of bias against bikers injured in accidents with cars.
Only through careful investigation of the accident scene, interviews with witnesses, accident reconstruction, deposition of the investigating police officers, extensive voir dire, focus groups and juror questionnaires on anti-bicyclist attitudes, can cyclists who were injured through no fault of their own recover their full measure of compensation after a serious bike accident. In the meantime, keep safe!
Remember, you can visit Facebook.com/MichiganAutoLaw to enter to win a $1,032 check as part of our distracted driving awareness campaign.
– Steve Gursten is one of the nation's top accident lawyers. He is head of Michigan Auto Law and has received the highest verdict in the state for a car accident or truck accident victim in 2008, 2009 and 2010, according to Michigan Lawyers Weekly. Gursten and the other accident lawyers at Michigan Auto Law regularly help injured bicycle accident victims.
– Photo courtesy of Creative Commons, by Ed Yourdon
Related information to protect yourself:
The truth about delayed and missed traumatic brain injury diagnosis
Child safety tips – wear a bicycle helmet
Michigan Auto Law is the largest law firm exclusively handling car accident, truck accident and motorcycle accident cases throughout the entire state. We have offices in Farmington Hills, Detroit, Ann Arbor, Grand Rapids and Sterling Heights to better serve you. Call (248) 353-7575 for a free consultation with one of our bicycle accident lawyers.