Michigan No-Fault insurance attorney explains that fine print in Allstate's new "guarantee" suggests its "good hands" may still need washing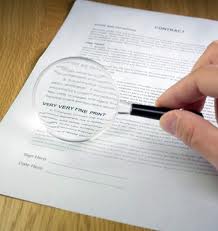 As a Michigan No-Fault insurance attorney, let's just say I've sued Allstate quite a bit over the past nearly 20 years I've been helping people. So I was a bit surprised to see Allstate's new "claim satisfaction guarantee" commercials on television, especially after a couple years of insurance fraud, bad faith lawsuits, state attorney general settlements for claims handling, and other bad news about the company and its claims practices.
The television advertisement and the Allstate website give the distinct impression that the insurance giant's new, "touchy feely" sounding program is a "money-back-guarantee" type offer.
For instance, doesn't "satisfaction guaranteed or your premium back" make you think that, if you are dissatisfied with Allstate's handling of your claim, you will get your premium money refunded to you?
Well, sadly, but not surprisingly because this involves Allstate, you would be wrong.
According to the fine print (with miniscule font, even for me as an insurance lawyer used to reading the fine print) that follows the above quote on the website, Allstate has no intention of opening its wallet for anyone any time soon.
Instead of getting "your premium back," the dissatisfied Allstate claimant merely gets a credit: "[Y]ou can get up to a 6-month [or 12-month] credit on your premium" depending on the term of your underlying policy.
Other limitations, restrictions and conditions hidden in the fine print include:
o You are limited to only one "claim satisfaction guarantee" credit per covered loss.
o You are limited to only one "claim satisfaction guarantee" credit per vehicle, even if you satisfaction stems from separate covered losses.
o You must tell Allstate why you are dissatisfied within 180 days of the date of the covered loss.
Of course, the first two conditions do little to motivate Allstate to improve its claims-handling process. Instead, it provides Allstate immunity for future bad behavior after a claimant has successfully complained.
And the time limit helps Allstate because its bad service may not surface during the first 180 days of the covered loss, not to mention that the filing limitation periods in auto insurance are notoriously confusing for insured customers.
All in all, Allstate's "claim satisfaction guarantee" does not seem like a huge change in its standard operating procedure of putting profits over people. Take a look at how Allstate was recently punished for using software to low ball auto accident claims and abuse car accident victims.
On the surface, Allstate boasts of its "good hands" philosophy and mission, while, just below the surface, mired in the fine print, Allstate's "bad hands" are writing monumental loopholes to every aspect of coverage that insured customers trustingly believe they have been promised.
– Steven Gursten is recognized as one of the nation's top insurance attorneys handling serious auto accident cases and no fault insurance litigation. He writes about insurance company abuse and the Michigan No-Fault insurance laws, and is available for comment.
– This blog was written by Steven Gursten and Todd Berg

Related information:
6 worst auto insurance companies (including Allstate)
Free book: Guide to Michigan No-Fault Law
Michigan Auto Law is the largest law firm exclusively handling car accident, truck accident and motorcycle accident cases throughout the entire state. We have offices in Farmington Hills, Detroit, Ann Arbor, Grand Rapids and Sterling Heights to better serve you. Call (248) 353-7575 for a free consultation with one of our No-Fault insurance attorneys.