Ironic and tragic loss illustrates why Michigan must keep its motorcycle helmet law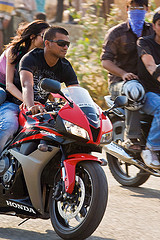 Today I want to share a tragic story that clearly illustrates the reason we need to keep our helmet law requirement in Michigan. According to CNN, a motorcyclist riding without a helmet at a rally protesting mandatory helmet laws, was killed in a motorcycle accident.
Philip A. Contos, 55 was on a ride organized by the American Bikers Aimed Towards Education (ABATE) against helmet laws. He hit his brakes, fishtailed and lost control of his Harley Davidson. He shot over the handlebars, hit his head on the pavement and was taken to the hospital where he was pronounced dead. Contos died of a traumatic brain injury from his head striking the ground without a motorcycle helmet.
Asked about the irony of Contos' death, the ABATE statewide president Thomas Alton, said, "We are riding at an increased risk and accept that. …"
Advocates of the Michigan helmet law repeal say it's a matter of personal freedom of expression and liberty, just as the ABATE president stated.
Our motorcycle attorneys strongly disagree. Why do advocates for no helmets completely ignore that their "personal liberty" intrudes on the personal liberty of everyone else – when taxpayers are asked to pay lifetime medical bills for catastrophic TBI and spinal cord injuries from riding without helmets? If Philip Contos had survived the motorcycle accident, his medical care would have shifted to the public taxpayers, and the costs of lifetime care would be shifted to Medicaid.
At least the ABATE President didn't say it was a good thing he died. But the sad and awful truth is that injuries from motorcycle accidents where the biker is not wearing a helmet are almost always catastrophic, assuming the biker isn't killed.
The studies and evidence is clear – more serious injuries and deaths will occur that could have been prevented by simply wearing a motorcycle helmet.
The Michigan Senate has passed the bill to repeal our motorcycle helmet law, meaning that bikers 21 years old and over would not be required to wear a helmet – if they buy $100,000 in personal injury protection insurance (also known as motorcycle pip). The bill is expected to be passed in the House. And it may be tied into a larger plan for No-Fault "reform," according to a vague statement made by Gov. Snyder.
This bill makes no sense whatsoever. It does not protect our Michigan motorcyclists, and it will shift the burden of paying for injured bikers' medical care to the public and Medicaid – as the $100,000 will be wiped out in the emergency room and first week in any catastrophic motorcycle injury crash.
This does not have to happen. And we cannot afford it to happen.
– Steven M. Gursten heads Michigan Auto Law and is recognized as one of the nation's top motorcycle attorneys. He received the highest motorcycle accident settlement in Michigan last year, according to Michigan Lawyers Weekly. Steve has spoken at trial seminars on motorcycle injury lawsuits, and is available for comment on Michigan's motorcycle helmet laws.
Related information to protect yourself:
Major predictors of motorcycle accidents and serious injury
Choosing a safe motorcycle helmet
Michigan motorcycle accident law – FAQs
Michigan Auto Law is the largest law firm exclusively handling car accident, truck accident and motorcycle accident cases throughout the entire state. We have offices in Farmington Hills, Detroit, Ann Arbor, Grand Rapids and Sterling Heights to better serve you. Call (248) 353-7575 for a free consultation with one of our motorcycle attorneys.