Truck accident lawyer explains how tort "reform" laws and lack of punitive damages removes any incentive for bad companies to stop unsafe, dangerous behavior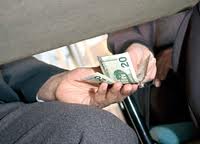 Today's guest blog is from my very good friend, Morgan Adams. Morgan is one of the best truck accident lawyers I know, and in addition to being a friend, we have worked together on many serious truck accident cases.
Morgan's observations on the perverse effect of the lobbying efforts from the insurance companies and the Chamber of Commerce is worth sharing. He wrote the following on his own blog: Governor Haslam and the Chamber of Commerce help tort lawyers stay in business.
Michigan also has no punitive damages law. And as my friend points out, there are terrible safety consequences that affect us all, when business groups are pushed by the Chamber of Commerce and the new, rabid tort-"reform"-at-all-costs mentality that they sadly have adopted in recent years. By the way, as a member of the Chamber of Commerce myself, I'm sorry to see the zealots having taken control and pushing such nonsense agendas over more common sense (and factually supported), ways to increase competitiveness. It's a shame that the insurance companies, big oil and the other organizations pushing tort "reform" have such an out sized voice in the Chamber these days, but I digress.
What we don't see in the snappy tort reform commercials put out these days is that these dangerous companies are no longer being punished – because there have been caps on pain and suffering in personal injury lawsuits, or because punitive damages have been removed. Instead, safety becomes a "cost" of doing business. And when punitive damages are no longer available and caps on pain and suffering in personal injury lawsuits can be easily calculated by company bean counters, the world becomes much more dangerous. Anyone remember the Ford Pinto?
Trucking companies are a great example. Trucking companies kill 5,000 Americans every year, many in completely preventable truck accidents that involve out-of-service trucks, or drivers with drug or alcohol addictions or serious health issues.
The irony in all this is that truck accident lawyers like myself are going to be kept busier by these new laws. Instead of deterring dangerous and negligent conduct, these new tort "reform" laws give truck companies no financial disincentive to protect the public or to stop unsafe and dangerous behavior. Sadly, with these laws, more people will continue to be injured and need legal representation.
"Every bad act of the company that results in another victim will likely result in yet another law suit"
Here's a snippet of what Morgan wrote on June 20, 2011:
"THE CHAMBER OF COMMERCE HELP TORT LAWYERS STAY IN BUSINESS!… Republican Governor Haslam, the Chamber of Commerce, and the state legislature have insured that people like me, trial lawyers, will thrive under the new law they just passed. That is how bad the new tort law (pushed by the Chamber of Commerce, the Tennessee Legislature, and signed by the Governor) capping non-economic damages is for the citizens of Tennessee.
You see in the old days in Tennessee when a company was really bad, and had killed and maimed people all across the state, a jury of 12 citizens could kill the bad corporation by compensating a victim with a sum of money that was over and above the defendant's insurance policy. This made sure that the bad company never had the opportunity to kill and maim Tennessean's again. That might have resulted in one large verdict, but only once, and then the company went out of the business of killing the people of Tennessee…
Thanks to the Chamber of Commerce's new tort liability law the bad companies get to stay in business. There is no three strikes rule (like for criminal defendants), heck there isn't even a twenty strikes rule. There is no death penalty. Bad companies in Tennessee get to live (and hurt and maim) forever.
Under the new law the amount that can be awarded by a jury is limited, or capped, and is so low it is easily covered by a corporation's insurance. Thus a really bad company gets to stay in business and will continue to kill and maim as long as the business is profitable. It can take risks now that it never could before.
Every bad act of the company that results in another victim will likely result in yet another law suit, a process that can no longer be stopped in Tennessee by killing the company. In fact, thanks to the Chamber of the Commerce we no longer have a way of driving unsafe companies out of our state."
Thanks for the great input, Morgan.
– Steven Gursten is a truck accident lawyer and partner of Michigan Auto Law. He is past president of the American Association for Justice Truck Accident Litigation Group, and has received the top-reported jury verdict in Michigan for truck accidents in three of the past six years in Michigan, according to Michigan Lawyers Weekly. Steve was named a Leader in the Law for his work to promote national truck safety.

Related information to protect yourself:
What surprising safety violation is the No. 1 truck accident predictor?
Safe driving tips to prevent truck accidents
Michigan Auto Law exclusively handles car accident, truck accident and motorcycle accident cases throughout the entire state of Michigan. We have offices in Farmington Hills, Sterling Heights, Ann Arbor, Grand Rapids and Detroit to better serve you. Call (248) 353-7575 for a free consultation with one of our truck accident lawyers.