Michigan accident lawyer examines Allstate's latest commercials and this new, touchy-feely promise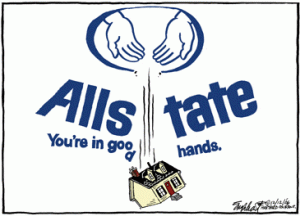 I've written quite often about Allstate, and after these latest Allstate "claim satisfaction guarantee" commercials, I simply can't resist. As an accident attorney who is very familiar with Allstate's handling of claims from seriously injured auto accident victims, I was floored – mouth agape – to see Allstate's new "claim satisfaction guarantee."
The advertisement reads: Claim Satisfaction Guaranteed. Can your car insurance claim that?" The Allstate website declares: "Satisfaction guaranteed or your premium back."
Let's set aside that no one actually gets their money back. A dissatisfied Allstate customer receives a credit instead. There is also quite a list of "preconditions" to trigger the "guarantee."
Now, let's get to business. The general idea behind this guarantee is that Allstate will refund money to its customers who are dissatisfied with Allstate's handling of their claims stemming from serious car accidents.
My first reaction to hearing news of that so-called "guarantee" was: Wow! That takes Orwellian double-speak to a whole new level.
Allstate has just settled with a number of states for its auto accident claims handling practices with ridiculously low settlement offers and its plans to discourage auto accident victims from hiring accident lawyers to help them, as well as its bad faith claims handling under its "Colossus" program. I (and the 16 other accident lawyers in my law firm) have also watched Allstate repeatedly engage in unjustifiable refusals to pay No-Fault insurance benefits. But now Allstate now wants everyone to believe it is the gentle auto insurance giant that's so concerned about its customers' claims experience, that it's willing to offer a "money back guarantee" sounding deal.
That's pretty rich. Even by Allstate's standards.
Allstate's profit-boosting tactics at the expense of of injured car accident victims
Since the mid-1990s, Allstate has unleashed tactic after tactic to boost its profits.
Article after article has taken Allstate to task and books have been written blasting Allstate's "profit" revolution. At one point in 2008, Allstate made public its controversial internal documents regarding how it actually treated its own premium-paying Allstate insured customers who trustingly delivered themselves into Allstate's so-called "Good Hands."
With this in mind, next week, I will identify five "sins" that may be driving Allstate's repentance effort with its new, well-meaning sounding "claim satisfaction guarantee."
Stay tuned.
– Steven Gursten is recognized as one of the nation's top accident lawyers handling serious auto insurance and car accident cases. He writes about insurance company abuse and the Michigan No-Fault laws, and is available for comment.
– This blog was written by Steven Gursten and Todd Berg, esq.
Related information:
Allstate won't be targeting Michigan doctors who help car accident victims
Tips for dealing with Allstate, Colossus claims software
Your Michigan No-Fault insurance rights
Michigan Auto Law is the largest law firm exclusively handling car accident, truck accident and motorcycle accident cases throughout the entire state. We have offices in Farmington Hills, Detroit, Ann Arbor, Grand Rapids and Sterling Heights to better serve you. Call (248) 353-7575 for a free consultation with one of our accident lawyers.