Motorcycle lawyer shares important points and comments from Detroit Free Press article on helmet use in motorcycle accident prevention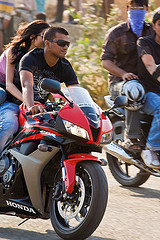 Last week, the Detroit Free Press ran a great editorial on why we must keep Michigan's motorcycle helmet requirement.
Here's a snippet, which hits a lot of what our own motorcycle lawyers have been blogging about:
Snyder should disregard the political calculations and just do the right thing — which is vetoing bills that would allow motorcyclists to ride without helmets if they were at least 21, licensed to operate a motorcycle for at least two years, and had completed a safety course. Repealing the mandatory helmet law would mean more people dying in motorcycle accident — an estimated 30 or more each year in Michigan — and dozens of more incapacitating injuries.
Even now, with a mandatory helmet law, motorcyclists account for 5% of what's paid out of the MCCA (Michigan Catastrophic Claims Association), even though they make up only 2% of the assessment, according to the Insurance Institute of Michigan. Since 1978, the MCCA, funded by a statewide surcharge on all auto insurance policies, paid $421 million for 885 motorcycle claims — and those are only claims that exceeded the MCCA threshold, currently at $480,000.
It's more than just us motorcycle lawyers who oppose scrapping Michigan's helmet law
Here are some interesting comments in response to the editorial in the Detroit newspaper:
Tom-Michigan: I believe in freedom of choice – let those who ride decide what's best. However, if a biker is permitted to ride without a helmet then the law should stipulate that rider will NOT receive unlimited insurance coverage. Simply put…keep a bike riders coverage to a minimum, unless he/she pays higher rates on their particular insurance (only for those who ride without a helmet).
I'm not against a biker riding without a helmet – but I shouldn't be expected to help pay for their decision. Let them make their own decision and let them pay for it.
maximumJ: "Michigan is the only state to provide unlimited medical coverage for crash victims, requiring lifetime benefits for all reasonable and necessary care. The average motorcycle claim paid from the Michigan Catastrophic Claims Association is about $475,000."
If they want to ride without a helmet they need to carry $500,000 in medical insurance coverage . If not, no deal.
Mygame: If it's "personal choice", then my "personal choice" is to not pay for what motorcycle riders don't pay in medical insurance or medical costs.
The proposed new law is so stupid. If you want to get rid of helmets, do it. But to ask police to look out for riders over a certain age who have ridden for 2 years and completed a safety course is nuts. Is there a test to be elected to office? This proves there is one needed.
Cantbeleiveit36: I started wearing helmets in the 1950's, long before it was required. I like the head protection, the face protection, and the hearing protection. Whenever I see a biker with no helmet, I am reminded of what the doctors call them — "ORGAN DONORS" I am a strong believer of individual rights, but support those who say if a rider wants to expose himself to unnecessary danger by riding without a helmet, he should forfeit the protection paid for by others.
What motorcycle lawyers have to say about bikers not wearing helmets
As I've said before, there are many bikers and people like Rep. Richard LeBlanc (who proposed the motorcycle helmet repeal), who say that not wearing a motorcycle helmet is a "personal liberty thing." This is ridiculous.
Motorcycle lawyers know this is dead-wrong, because we see the staggering costs of medical care for catastrophic traumatic brain injuries from motorcycle accidents being shifted to the taxpayers and to Medicaid. The costs of the care for injured motorcyclists should the helmet law be repealed will certainly skyrocket, as was mentioned above several times.
Many bikers are against repealing the helmet law. But for those who believe otherwise, your "personal liberty" includes the public checkbook when a spinal cord or TBI injury occurs, which makes it a matter of "our liberty." And as taxpayers, we should all have a say on the helmet law, since it will surely increase the costs of medical care for the increased numbers of injured bikers when a motorcycle accident does inevitably occur.
– Steven M. Gursten heads Michigan Auto Law. He received the highest motorcycle accident settlement in Michigan last year, according to Michigan Lawyers Weekly. He is recognized as one of the nation's top motorcycle lawyers. Steve has spoken at trial seminars on motorcycle lawsuits, and is available for comment on Michigan's motorcycle accident laws and personal injury cases.

Related information:
Michigan motorcycle accident law FAQs
Choosing a safe motorcycle helmet
Michigan motorcycle deaths increase by 21 percent
Michigan Auto Law is the largest law firm exclusively handling car accident, truck accident and motorcycle accident cases throughout the entire state. We have offices in Farmington Hills, Detroit, Ann Arbor, Grand Rapids and Sterling Heights to better serve you. Call (248) 353-7575 for a free consultation with one of our motorcycle lawyers.