Michigan truck accident attorney cites truckers' failure to use a turn signal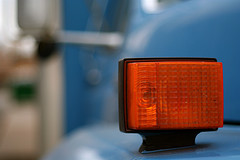 I recently wrote about the strong correlation between truck accidents and a trucker's bad driving record that includes prior crashes. This information came from the American Transportation Research Institute (ATRI). The study released in April 2011 called "Predicting Truck Crash Involvement: A 2011 Update," was based upon tracking nearly 600,000 U.S. truck drivers over two years.
I'd like to discuss another huge predictor of truck accidents, again, according to the ATRI study.
The report highlighted 12 driver behaviors that more than double a truck driver's risk of having a truck accident — as compared to truckers with good driving records. According to the report, it was a trucker's failure to use a turn signal that gave him 96 percent chance of being involved in a future truck accident crash.
Turn signals? Our lawyers have helped more people involved in truck accidents than any other law firm in Michigan, but failure to use a turn signal as the top predictor of causing a future truck accident took us all by surprise.
I want to take this opportunity to remind drivers of cars to be aware of trucks on the road, try to stay as far away from them as you can, and always try to stay out of their blind spots. If you can't see the truck driver, he or she most likely cannot see you. You never want to be in that blind spot when a truck driver makes a wide right turn.
More truck safety violations that predict truck accidents
Here are the other safety 11 truck driver safety violations that the ATRI report cited as significant truck accident predictors:
o Past truck accidents (88 percent)
o An improper passing violation (88 percent)
o Improper turn conviction (84 percent)
o Improper or erratic lane change (80 percent)
o Improper lane/location (68 percent)
o Failure to obey traffic sign (68 percent)
o Speeding more than 15 mpg over speed limit (67 percent)
o Any conviction (65 percent)
o Reckless/careless/inattentive/negligent driving (64 percent)
Truck safety and accident prevention has to start with the trucking companies themselves. Motor carriers must be responsible by hiring safe drivers with good driving and safety records, maintaining their fleets according to federal safety standards, and not (knowingly) breaking the law by pushing truckers to driver beyond hours of service or ignoring drug tests. To my truck driver readers and fellow trucking lawyers out there, what do you think needs to be done to lower these truck accident risks?
– Steven Gursten is a truck accident attorney and partner of Michigan Auto Law. He is past president of the American Association for Justice Truck Accident Litigation Group, and has received the top-reported jury verdict in Michigan for truck accidents, according to Michigan Lawyers Weekly. Steve was named a Michigan Lawyers Weekly Leader in the Law for his efforts in promoting national truck safety.
– Photo courtesy of Creative Commons, by Terry Johnston

Related information:
Insurance for truckers injured in truck accidents
Trucker: Trucking industry breaking laws and putting drivers in danger
What you must know about Michigan truck accident cases
Michigan Auto Law exclusively handles car accident, truck accident and motorcycle accident cases throughout the entire state of Michigan. We have offices in Farmington Hills, Sterling Heights, Ann Arbor, Grand Rapids and Detroit to better serve you. Call (248) 353-7575 for a free consultation with one of our truck accident attorneys.