Motorcycle accident attorney shares tips on deciphering good helmets from dangerous and novelty helmets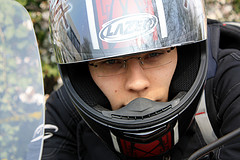 I'm expecting the motorcycle helmet law to be repealed this year in Michigan. And I've been writing on why it's important for bikers to wear helmets – to help prevent motorcycle accidents and deaths on Michigan roads.
Today, I wanted to write about the helmets themselves. I just finished preparing for trial a very serious motorcycle accident case where my client was hit by a car and suffered a significant traumatic brain injury (TBI). The injury is tragic, but what makes it important to discuss here was how the defense lawyers for the insurance company on the car that caused the accident defended the case. They argued that the helmet my client was wearing at the time contributed to his brain injury, and that my client was comparatively at fault (meaning the pain and suffering money we would be awarded should be reduced) because he was wearing a motorcycle helmet that did not comply with federal safety standards.
It is a dangerous defense for a motorcycle lawyer. Many jurors already are predisposed to blame bikers just for riding a motorcycle, and I've found examining these jurors on their beliefs to be one of the most important things to winning motorcycle accident cases. But the helmet defense is a defensive attribution argument that will resonate with many jurors. The focus of today's blog is not to talk about how to defeat this argument. The best way to defeat it is to avoid it entirely: wear a safe helmet. The reality is that if motorcyclists aren't wearing the right helmets, they will do little good in a serious motorcycle crash. The wrong motorcycle helmet will not protect against traumatic brain injury and spinal cord injury.
It's important to remember that the U.S. Department of Transportation (DOT) requires that all motorcycle helmets sold in the United States meet Federal Motor Vehicle Safety Standard (FMVSS) 218. This standard defines minimum levels of performance that helmets must meet to protect the head and brain in the event of a motorcycle accident.
If your helmet does not meet this standard, you are breaking the law when riding in states that require helmet use by law (as of now, Michigan law requires helmet use). A lot of helmets are sold as novelty items and bikers often mistake them for being safe and legal.
Take a look at the list below from our motorcycle accident attorneys. This should help you decipher between the safe helmets and novelty helmets during your next shopping trip.
1. Thick inner liner of the motorcycle helmet
Good helmet: Helmets that meet the minimum Federal safety standard have an inner liner, usually about one-inch thick of firm polystyrene foam. Sometimes the inner liner won't be visible, but you should still be able to feel its thickness.
Bad helmet: Unsafe helmets normally contain only soft foam padding or a bare plastic shell with no padding at all.
2. Sturdy chin strap and rivets
Good helmet: Helmets meeting the DOT safety standard will have sturdy chinstraps with solid rivets.
Bad helmet: Helmets that do not meet the safety standard may not have chinstraps, or straps that are not properly secured.
3. Weight of motorcycle helmet
Good helmet: Helmets meeting FMVSS 218 generally weigh about three pounds. Become familiar with the weight of helmets that comply with the Federal safety standard. These helmets provide a more substantial, heavy feel.
Bad helmet: Depending on the design, unsafe helmets can weigh only one pound or less.
4. Motorcycle helmet style
Good helmet: The DOT safety standard does not allow anything to extend further than two-tenths of an inch from the surface of a helmet. Visor fasteners are allowed.
Bad helmet: Because the standard does not allow anything to extend further than two-tenths of an inch from the surface of a helmet, a spike or other protruding decorations indicate a helmet that's not safe.
5. Motorcycle helmet design
Good helmet: You'll need to check for weight, thickness, sturdy chinstraps, as well as the "DOT" and manufacturer's labels to make sure the helmet meets the Federal safety standard. Familiarize yourself with brand names and designs of helmets that comply with DOT requirements. For example, a full-face design is a good indicator of a safe helmet.
Bad helmet: A design such as the German Army style or skullcap style may be a clue to an unsafe helmet. Unsafe helmets are noticeably smaller in diameter and thinner than ones meeting the DOT standard.
6. Department of Transportation (DOT) sticker
Good helmet: Helmets that meet the federal requirement must have a sticker on the outside back of the helmet with the letters "DOT." This certifies that the helmet meets or exceeds FMVSS 218.

Bad helmet: I'ts important to note that some novelty helmet sellers provide DOT stickers separately for motorcyclists to place on unsafe helmets.
7. Snell or ANSI label
Good helmet: In addition to the DOT sticker, labels located inside the helmet showing that a helmet meets the standards of private, non-profit organizations such as Snell or the American National Standards Institute (ANSI) are good indicators that the helmet also meets the Federal safety standard.
Bad helmet: An unsafe helmet will not have either of these stickers. The U.S. Department of Transportation has stated that it has never seen a novelty helmet that has a phony DOT sticker in addition to a phony Snell or ANSI label.
8. Manufacturer's labeling on the motorcycle helmet
Good helmet: Manufacturers are required to place a label on or inside the helmet stating the manufacturer's name, model, size, month/year of manufacture, construction materials and owner's information.
Bad helmet: A helmet that does not meet the Federal safety standard usually will not have such labeling. Remember, a DOT sticker on the back of the helmet and proper inside labeling do not necessarily indicate that a helmet meets all DOT requirements. Many helmets have counterfeit DOT stickers and a limited few also have manufacturer's labeling. But the design and weight of a helmet, thickness of the inner liner, and the quality of the chin strap and rivets are extra clues to help distinguish safe helmets from non-complying ones.
– Source – U.S. Department of Transportation
Here's more information on choosing the right motorcycle helmet, from the National Highway Traffic Safety Administration.
If you've been in a motorcycle accident and need help, call Michigan Auto Law at (248) 353-7575. One of our motorcycle attorneys will answer all of your questions, and there's no cost or obligation.
– Steven M. Gursten heads Michigan Auto Law and is recognized as one of the nation's top motorcycle attorneys. He received the highest motorcycle accident settlement in Michigan last year, according to Michigan Lawyers Weekly. Steve has spoken at seminars on winning motorcycle accident lawsuits, and is available for comment.
– Photo courtesy of Creative Commons, by Ranier Ebert
Related information:
Is the Michigan motorcycle helmet law a thing of the past?
15 motorcycle driving tips to keep you safe
What to do after a motorcycle crash in Michigan
Michigan Auto Law is the largest law firm exclusively handling car accident, truck accident and motorcycle accident cases throughout the entire state. We have offices in Farmington Hills, Detroit, Ann Arbor, Grand Rapids and Sterling Heights to better serve you.