Michigan auto lawyer discusses the rights of older drivers and public safety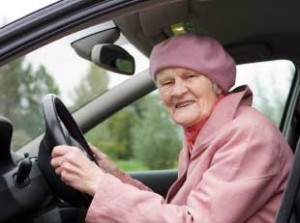 I had the pleasure to sit down this week with Noah Ovshinsky, a news reporter for WDET, to discuss the growing problem of elderly drivers causing car accidents on the roads. Obviously, this is a problem in all 50 states. But Michigan is an older state, with an estimated one in six drivers over the age of 65 by the year 2020, so the issue is of particular concern here.
Of even greater concern is that while Michigan has been engaged on the issue of teen driving, including passing a new law on teen driving on March 30, 2011, the growing problem of elderly drivers is being ignored.
And that is a problem. By miles driven, teen drivers have the highest fatality rate, but elderly drivers come in at No. 2.
A Michigan drivers license reexamination – not enough to stop senior citizen car accidents
Worse yet, the Michigan Secretary of State, in typical bureaucratic secretary of state fashion, makes it very difficult to take dangerous older drivers off the road BEFORE they cause a terrible car accident. Unlike in other states, in Michigan we have to fill out a form – the OC-88 Request for Driver Re-Examination form.
The form requires you to put in the name, address, date of birth (yes, even date of birth) and/or drivers license number (not driver license, the driver license number). To make it even worse, you cannot fill out the form anonymously. I can only assume this has a huge dampening effect on children and friends who have real concerns about a loved one still driving, but who don't want to give their information on something that might lead to that person's license – and to many elderly drivers their freedom, independence and mobility – being taken away.
To juxtapose, the only things the Michigan Secretary of State does focus on is what happens AFTER the accident. You can get a license re-examination to determine if an elderly driver is still fit to drive, but only if that driver kills someone, causes three car accidents in two years, or accrues 12 or more points on their license in two years.
This is just insane. If an ounce of prevention is truly worth a pound of cure, why are we waiting until after someone is killed or seriously injured in a completely preventable car accident before the State of Michigan will do something?
Balancing elderly driving rights with public safety in Michigan
As an auto lawyer, I'm the first to recognize that this is an extremely sensitive issue. We are talking about protecting elderly rights, and driving is incredibly important. It goes so beyond just driving from point A to point B. It really is senior citizens' independence at stake here. But this must be balanced with the rights of public safety and protecting the public from entirely preventable car accidents.
I feel strongly that the answer is NOT to discriminate against the elderly based upon age. Yes, the human body does break down as we get older, and vision, coordination and balance, cognitive functioning and perception and reaction time all decrease. Delays in perception and reaction time become especially important when you are driving a car at 45 mph, or almost 70 feet per second. Even a few seconds delay in perceiving and then reacting when driving a car at 70 feet per second can have catastrophic consequences. Still, the answer is not to discriminate on the basis of age, but to focus on an older driver's competency to drive. Focusing on driver competency is enormously effective and balances the rights of the elderly with protecting the public from unsafe drivers who should no longer be getting behind the wheel.
Let's start with the Michigan Secretary of State's office. It's time it finally engages in this important issue.
– Steven Gursten is recognized as one of the nation's top lawyers handling serious car and truck accident injury cases and automobile insurance No-Fault litigation. He frequently writes about elderly driving and is available for comment.

Related information:
Are older Michigan drivers safe?
Michigan Auto Law is the largest law firm exclusively handling car accident, truck accident and motorcycle accident cases throughout the entire state. We have offices in Farmington Hills, Detroit, Ann Arbor, Grand Rapids and Sterling Heights to better serve you. Call (248) 353-7575 for a free consultation with one of our auto lawyers.