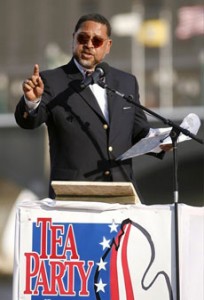 Partisan, wildly activist, rabidly pro-insurance and anti-consumer defines Justice Young's record on Court
Shouldn't Justice Robert P. Young, Jr. be the anti-Tea Party candidate for the Michigan Supreme Court this November? Then how ironic that Justice Robert Young is now attempting to portray himself as standing for the principles of the Tea Party movement, in an effort to pander votes before the upcoming election.
If they only knew about the real Justice Young.
There's a lot I liked about the original Tea Party. Not the one that has lately been kidnapped by Karl Rove, Roger Ailes, and the corporate establishment, but the original grass roots movement. Chief among those admirable qualities was that the Tea Party seeks to represent ordinary Americans in a world where both political parties seem kidnapped by special interests.
The Tea Party is against government intrusion. It is a staunch defender of individual rights, freedom and individual liberty. I understand that an important part of the Tea Party platform is respect for the rule of law. The Tea Party is against activist judges who change the law to suit their own partisan and political views.
Which leads me to Justice Robert Young, and the perplexing question of: Just how is it that Justice Robert Young is now trying to position himself as the Tea Party candidate for the Michigan Supreme Court? Justice Robert P. Young Jr.'s judicial record overruling cases decided by the Michigan Supreme Court is shockingly radical. He is an activist judge. His wildly pro-insurance opinions threaten the integrity of the legal process.
Tea Partiers: Did you know this about Justice Young?
No justice currently sitting on the Michigan Supreme Court has overruled cases more frequently or overruled more cases than Young during his tenure on the state's highest court. Young, a conservative Republican, who is running in November for reelection to his second 8-year term as a Michigan Supreme Court justice, has a 92 percent "overruling rate." That means Young has voted to overrule Michigan Supreme Court cases (which are also referred to as "precedent") in 92 percent of the cases where the opportunity to overrule has presented itself.
I've written about Justice Young in the past, and I'll make no bones about it. I think he is a terrible justice and he is unfit for the highest court in Michigan. I will be discussing these views more thoroughly in my next handful of blogs. In the meantime, Tea Party members beware: The real judicial record of this "wolf in sheep's clothing" seems to stand against everything that your Tea Party movement holds dear.
Related information:
Alton Davis is a great pick for the Michigan Supreme Court
38 judicial travesties of the Michigan Supreme Court
Told you have no case? New auto law restores car accident victims' rights
Michigan Auto Law is the leading and largest law firm exclusively handling car accident, truck accident and motorcycle accident cases throughout the entire state for more than 50 years. Michigan Auto Law has offices in Farmington Hills, Detroit, Ann Arbor, Sterling Heights and Grand Rapids to better serve you. Call (248) 353-7575 to speak with one of our auto accident attorneys at no cost or obligation.
Paid for with regulated funds by the Gursten, Koltonow, Gursten & Raitt, P.C., Committee, 30101 Northwestern Highway, Farmington Hills, Michigan 48334. Not authorized by any Candidate Committee.