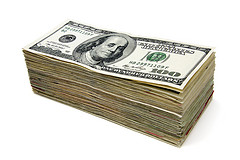 Auto accident attorney debunks the scare tactic used by insurance companies after Michigan's auto law has changed
Yesterday morning, I woke up to find my picture on the front page of The Macomb Daily. The article was based on an interview I had done on the new case of McCormick v. Carrier and the Michigan Supreme Court making it easier for the injured to collect compensation for car accidents. I spoke about how happy I was for Michigan auto accident victims who have suffered serious personal injuries, but have had their legal rights taken away. These people had their accident cases thrown out of court by the old harsh auto accident threshold law under Kreiner v. Fischer, before it was overturned Sunday night.
I told the reporter who interviewed me that there's no basis for the scare tactics and threats of the auto insurance companies to raise rates, as they threatened to do in a press release issued just hours after the McCormick decision.
In its efforts to be balanced, the reporter also interviewed Pete Kuhnmuench, exective director of the Insurance Institute of Michigan, which represents more than 90 insurance companies in this state.
Mr. Kuhnmuench, and the insurance companies that he represents, have a lot to apologize for. And what I think is the most compelling story still has not been addressed by the media. That is record-breaking profits and a 54 percent drop in car accident case filings since Kreiner v. Fischer. Yet within hours of McCormick v. Carrier coming down, the insurance industry is threatening to raise auto insurance rates for Michigan drivers – again.
Drivers in Michigan are still waiting for auto insurance rate reductions
Why? The insurance companies promised us we would see huge insurance rate reductions after they changed our law in 1995, making Michigan's auto accident law the nation's toughest. But since 1995, insurance rates have only climbed.
A quick history lesson is in order here.
In 1995, all three branches of Michigan's government were controlled by the Republicans. The insurance companies, sensing an opportunity, lobbied hard to change Michigan's auto accident law, which the Michigan Legislature subsequently passed. By 1996, Michigan had the harshest auto accident law in the entire nation. The insurance industry applauded this as a huge victory.
Michigan insurance companies… you asked for McCormick v. Carrier
Keep in mind, the change in our law that took place Sunday night only returned Michigan's auto accident threshold back to the law that the insurance companies basically wrote and lobbied so hard for in 1995.
The only significant change that has been made with McCormick v. Carrier is the Michigan Supreme Court said the four extreme Republican justices who authored Kreiner in 2004 overstepped their role by legislating from the bench, creating new and even more restrictive language to Michigan's auto law that was found nowhere in the clear and unambiguous statute or the legislative history of the No-Fault definition of serious impairment of body function (Michigan's auto accident threshold).
Hey, isn't it the Republicans who always say judges should be textualists, and should enforce the laws as written when they are clear?
If Michigan law has simply returned on Sunday night to the law the insurance companies had lobbied so hard for back in 1995, why should our auto insurance rates now go up? These same insurance companies promised us back in 1995 that if we made it significantly harder for people to sue after a car accident, that we would all see lower rates.
– Steven M. Gursten is recognized as one of the nation's top attorneys handling serious car and truck accident injury cases and auto insurance no-fault litigation. Steve speaks and writes extensively on McCormick v. Carrier and Michigan's No-Fault laws. He is available for comment on Michigan's new auto accident law.
– Photo courtesy of Creative Commons, by Amagill
Related information:
Dealing with Michigan auto insurance companies
Important insurance coverage issues
Michigan No-Fault insurance law
Michigan Auto Law is the leading largest law firm exclusively handling car accident, truck accident and motorcycle accident cases throughout the entire state for more than 50 years. We have offices in Farmington Hills, Detroit, Ann Arbor, Grand Rapids and Sterling Heights to better serve you. Call (248) 353-7575 for a free consultation with an auto accident attorney. We can help.