Auto accident attorney interprets Michigan's new auto law, which could give hundreds of car accident victims with serious personal injuries a second chance to have their pain and suffering cases heard in court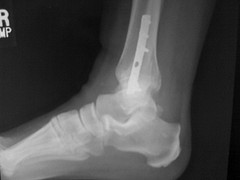 I'd like to share the exciting news. Sometime between now and Sunday, the Michigan Supreme Court will release McCormick v. Carrier (Rodney McCormick v. Larry Carrier and Allied Automotive Group, Indemnitor of General Motors Corp.).
McCormick is the case that Michigan auto accident victims, lawyers on both sides and almost all trial court judges have been hoping will finally reverse the shocking unfairness that has resulted under Kreiner v. Fischer.
Hopefully, the Court's interpretation of McCormick will correct many of the judge-made excesses of the previous interpretation in Kreiner. This would give hundreds of Michigan auto accident victims a second chance to have their pain and suffering cases heard in court – fairly.
Michigan now has the worst auto law in the country thanks to the Michigan Supreme Court's analysis in Kreiner. Hundreds, maybe even thousands, of completely innocent and seriously injured Michigan residents injured in car accidents – including people who have endured significant fractures (McCormick) and even spinal surgeries (Swick) and knee replacements (Gagne) – have had their cases thrown out of court and received nothing for their pain and suffering and months of disability.
I've already started receiving phone calls asking my opinion on how the Michigan Supreme Court's ruling in McCormick v. Carrier will affect car accident victims and Michigan personal injury lawyers. I will be speaking on this subject at upcoming legal seminars for the Michigan Association for Justice, the Institute for Continuing Legal Education and the State Bar of Michigan. So on Monday, I'll be posting a detailed blog that will lay out more specifically what this new interpretation of our law means for Michigan. I will also be available to answer your questions.
Meanwhile, I've written extensively about Kreiner and the upcoming McCormick decision. Here's the background.
McCormick v. Carrier auto accident case facts
In August 2009, the Michigan Supreme Court granted the motion for reconsideration in McCormick. In this case, Plaintiff Rodney McCormick suffered a badly fractured ankle that required two surgeries following his auto accident in Flint, Michigan. The surgeries were successful, and Rodney McCormick returned to work approximately one year later. He was able to resume all of his pre-car accident life activities, including golfing and fishing. McCormick testified at his deposition that his life was "painful, but normal."
Only in Michigan could this be dooming.
McCormick's case was thrown out of court under the Michigan Supreme Court's ruling of Kreiner. The Court found two surgeries, months of being unable to walk, and about one year off of work was not considered serious enough under Michigan's auto law. Judges Whitbeck and Jansen, writing for the majority in the Court of Appeals and dismissing McCormick's case, found that the "course or trajectory of plaintiff's normal life" was not affected because he had made a great recovery one year later.
In other words, Judges Whitbeck and Jansen found as a matter of law that Rodney McCormick's pain did not matter. His months of near total incapacitation and recuperation after surgeries did not make a difference. An entire year off of work and of being physically unable to enjoy the activities that are most important to him – were not enough.
We'll see what the Michigan Supreme Court decides for Mr. McCormick now. I can't emphasize how important this decision really is for Michigan.
How Kreiner hurts auto accident victims
Kreiner v. Fischer is a 2004 Michigan Supreme Court decision that interpreted the No-Fault act's "serious impairment of body function" statute. It established the preconditions injured Michigan residents must meet before they can bring pain and suffering lawsuits (non-economic damages).
The justices who wrote Kreiner created a law that caused people who suffered serious injuries and who missed months from work to have virtually zero legal rights. In other words, Kreiner made it very difficult (some auto accident attorneys would say nearly impossible) for people with very serious injuries to recover pain and suffering damages from an auto accident lawsuit. Michigan Lawyers Weekly reported that as of 2008, of the cases that made it to the Michigan Court of Appeals, 189 out of 208 car accident victims lost their cases in the appellate courts. And of those 208 cases, 193 were appeals from summary disposition motions from the trial court like this one.
The Republican justices who decided Kreiner have been universally – and rightly – criticized for imposing their own political views on a clear and unambiguous statute, and in turn, creating such an unfair law. Often, propaganda paints liberal and Democratic judges for judicial activism and going beyond the plain and unambiguous language of the law they are asked to interpret. Yet what the Kreiner majority did was a shocking and shameful example of judicial activism.
These justices decided to go far beyond what the Republican Legislature intended when our definition of "serious impairment of body function" was enacted in 1995. Kreiner added additional language found nowhere in the legislative history or statute itself, including language like "course or trajectory"and "entire normal life" that opened the way for conservative or anti-consumer judges to be able to throw out virtually any auto accident case.
For example, even though Rodney McCormick had months of near total incapacitation from his two ankle surgeries, let alone missed on year from work, Judge Whitbeck was able to say that these serious injuries did not change the "course or trajectory" of his "entire normal life." Most judges and lawyers could only shake their head in disgust as Michigan's auto law metastasized into a new law far beyond what the Michigan Legislature ever intended.
Hopefully, this will end today- or at least by midnight on Saturday – and car accident victims will be given a fair chance in court and the rights they've deserved all along.
– Steven M. Gursten is recognized as one of the nation's top attorneys handling serious car and truck accident injury cases and auto insurance no-fault litigation. Steve speaks and writes extensively on Kreiner and Michigan's No-Fault laws and he is available for comment.
– Photo courtesy of Creative Commons, by the Consortium

Related information:
McCormick: A personal injury lawyer's observation from oral arguments
McCormick to bring new body of car accident law

Lawyers and car accident victims hoping for some sunshine after Michigan's Kreiner v. Fischer
Michigan Auto Law is the leading largest law firm exclusively handling car accident, truck accident and motorcycle accident cases throughout the entire state for more than 50 years. We have offices in Farmington Hills, Detroit, Ann Arbor, Grand Rapids and Sterling Heights to better serve you. Call (248) 353-7575 for a free consultation with an auto accident attorney. We can help.