Michigan personal injury attorney gives FAQs about the new anti-texting law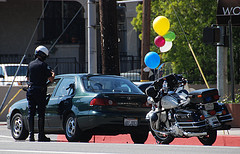 I've received quite a few questions and e-mails about Michigan's new texting while driving ban, and I know many of the other personal injury attorneys here have as well. As you know, the law was signed by Gov. Granholm on the Oprah show and came into effect July 1, 2010.
What I'd like to do today is answer a number of the questions I've received on Michigan's texting law. I do want to stress, as an attorney handling auto accidents, that texting while driving can be deadly for yourself and for other Michigan families. In my other blogs on distracted driving and texting, I've discussed how texting behind the wheel is as dangerous as drinking and driving, so I won't repeat them here. But remember, just by following the law, you can literally prevent car accidents and save lives.

q. What exactly does the texting while driving ban in Michigan prohibit?
a. The law prohibits reading, typing or sending text messages using a wireless two-way communication device in a person's hand or lap while driving a car.

q. What are the penalties for texting while driving?
a. Under Michigan law, texting while driving will be classified as a primary offense, which means you can be pulled over and ticketed based on a text messaging offense alone. Violators will face a fine of $100 for the first offense and $200 for subsequent offenses.
q. Does the ticket have points?
a. The texting while driving ticket does not come with points, and will not become part of a driver's permanent record.
q. How will officers decipher whether a driver is texting or dialing?
a. According to Macomb County Sheriff Mark Hackel, officers will have to make personal determinations whether a driver is texting or dialing. An officer can ask a driver for his or her phone, but the driver is not obliged to give it to an officer by law. Some officers have been told not to ticket people for texting at stop lights, as the law states a vehicle must be moving for the offense to occur.
q. When can police pull over Michigan drivers?
a. Police can pull over drivers if they see them texting at the wheel, even if there's no other reason to flag them down.
q. Can drivers still use dash-mounted GPS navigation systems?
a. Yes.

q. Can a driver challenge a texting while driving ticket in court?
a. Yes, just like any other ticket. But officers are being instructed to be prepared to explain their reasoning for ticketing to a judge, before making the decision to issue a ticket.
q. Will this law save lives?
a. As an auto accident attorney who has handled many preventable accidents due to distracted driving, I say yes. Texting while driving increases the likelihood of being involved in a car accident by more than 23 percent. That is, findings have shown that people who text while driving are more 23 percent more likely to be in an accident than non-distracted drivers.
My hope is that Michigan's new anti-texting law will surely help reduce this dangerous behavior and lead to safer roadways. Please, if only for avoiding a fine imposed by this new law, put the phone down while you're behind the wheel and encourage others to do the same. Help us protect Michigan drivers and families by waiting to send that text.
– Steven M. Gursten is recognized as one of the nation's top attorneys handling serious car and truck accident personal injury cases and auto insurance No-Fault litigation. He writes extensively about distracted driving and auto accident law. Michigan Auto Law has received the largest reported jury verdict for an automobile accident case in Michigan in seven of the past 10 years, including 2009, according to published reports.
– Photo courtesy of Creative Commons, by fourbyfourblazer

Related information:
Safe Driving Tips to Avoid Car Accidents in Michigan
Be Prepared in Case of an Auto Accident
10 Foods to Avoid While Driving
Michigan Auto Law is the largest law firm exclusively handling car accident, truck accident and motorcycle accident cases throughout the entire state. We have offices in Farmington Hills, Detroit, Ann Arbor, Grand Rapids and Sterling Heights to better serve you. Call (248) 353-7575 for a free consultation with an auto accident attorney – anytime. We can help.