Auto accident lawyer reminds you to buckle up in the summer months – when car accidents in Michigan are rising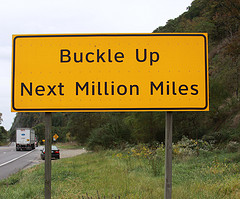 I always say that car accidents are not really accidents. A true accident is an "Act of God" and no one is truly responsible. Almost all car accidents, on the other hand, are preventable, as the vast majority of crashes are caused by peoples' carelessness. It doesn't make these people bad, but it shows that at a critical time, they exercised really bad driving judgment or weren't being attentive; and an innocent person was hurt by their negligence. That's what auto insurance is for.
Since car "accidents" will happen, we should focus on what we can do to make injuries that result from them as preventable as possible. Buckling up your seat belt can mean the difference between minor bruising and paralysis. It can mean the difference between a sore neck for a few weeks caused by whiplash, and a severe brain injury that changes lives forever.
Last year, one of my clients was involved in a serious truck accident. This wreck was caused by a speeding commercial truck and caused my client's vehicle to actually rollover from the impact. Unfortunately, my client was not wearing his seat belt and sustained severe neck injuries and traumatic brain injury from hitting the windshield. Because of these injuries, he is no longer able to walk. If he were wearing his seat belt, things might have been different. According to Michigan law, his failure to wear a seat belt will also result in his case being automatically reduced by the trial court after a trial.
As an auto accident lawyer, I've seen many unfortunate cases where injuries could have been substantially less if the vehicle occupants had just buckled up. Each year, the lawyers in my firm donate and volunteer in the Michigan Association for Justice bike helmet giveaways to encourage young children to ride with helmets, to prevent little accidents from becoming life-changing ones.
That's why I wanted to write this blog today. Today wraps up Click It or Ticket – America's Seat Belt Campaign, by the National Highway Traffic Safety Administration. Click It or Ticket is the most successful seat belt enforcement campaign ever, helping create the highest national seat belt usage rate of 83 percent. This has saved countless lives.
But we should not let buckling up fall to the wayside just because the national campaign is wrapping up. Now, and the next few months, is an important time to stress buckling up even more so, as auto accidents skyrocket in the summer. With the warmer weather comes more motorcyclists, road trips, drunk drivers and higher speeds.
Statistics from the 2008 Michigan Traffic Crash Facts state that more fatal crashes occur in July than any other month. Also, more fatal crashes occur between noon and 6 p.m. than any other time period as well as on Saturdays more than any other given day.
The primary target for buckle up reminders continues to be men ages 18 to 34, which research shows are less likely to wear seat belts.
Meanwhile, seat belt use the United States in 2009 stood at 84 percent, a gain from 83 percent in 2008, as measured by NHTSA's National Occupant Protection Use Survey. Seat belt use has been increasing steadily since 1994, accompanied by a steady decline in the percentage of unrestrained passenger fatalities during the day.
According to the NHTSA survey, Michigan had the highest percentage of seat belt use in the country at 97.2 percent in 2008! This is an increase of 3.5 percent from 2007.
Let's capitalize on this great news and keep on buckling up. I'd like to wish my cherished clients, friends and fellow attorneys a very safe and happy summer.
– Steven M. Gursten is recognized as one of the nation's top experts in serious car and truck accident injury cases and automobile insurance no-fault litigation. Michigan Auto Law has received the largest reported jury verdict for an automobile accident case in Michigan in seven of the past 10 years, including 2009, according to published year-end verdicts and settlements reports.
– Photo courtesy of Creative Commons, by JMazzolaa
Related information:
Protecting Your Rights Before a Car Accident
Michigan Truck Accident Statistics
Michigan Auto Law is the largest law firm exclusively handling car accident, truck accident and motorcycle accident cases throughout the entire state. We have offices in Farmington Hills, Detroit, Ann Arbor, Grand Rapids and Sterling Heights to better serve you. Call (248) 353-7575 for a free consultation with an auto accident attorney. We can help.