Michigan Auto Accident Lawyers Urge Drivers to Join "No Phone Zone Day"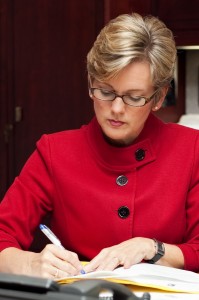 On Tuesday, I announced the welcome news that Michigan has finally banned texting while driving. Today, Governor Granholm will sign the texting-while-driving ban on 'Oprah.' Like our auto accident attorneys, Oprah has been very vocal about the dangers of texting while driving. Recently, she had her fans take a pledge to stop texting while behind the wheel.
I'd like to share the following article that appeared in the Detroit News, as it highlights the importance of this new law and urges Michigan residents to put their phones down while driving – starting today.
Gov. Jennifer Granholm plans to sign the state's texting while driving ban legislation in Detroit on Friday during a broadcast of the "Oprah Winfrey Show."
Liz Boyd, a spokeswoman for the governor, confirmed the details of Granholm's signing plans.
The House passed the third and final bill in a texting ban package by a 82-22 vote. The Senate has passed the bill so it now goes to Granholm for her signature.
"Texting while driving is a dangerous habit that too many drivers take part in," bill sponsor Rep. Lee Gonzales, D-Flint, said in a statement. "Michigan now joins the ranks of nearly two dozen other states that are taking action to save lives and make our roads safer."
Winfrey will dedicate Friday's program to distracted driving and will feature an appearance by Transportation Secretary Ray LaHood.
It's part of an effort to declare April 30 the first national "No Phone Zone Day."
Distracted driving kills nearly 6,000 Americans a year, according to the National Highway Traffic Safety Administration.
"A call or text isn't worth taking a life," Winfrey said. "We must not allow more mothers and fathers, daughters and sons, sisters and brothers to die before we take action against distracted driving."
The show will broadcast rallies in Atlanta, Boston, Detroit, Los Angeles and Washington.
Michigan's ban will start July 1. A first offense would cost $100 and repeat offenses would cost $200.
No points would be added to a driver's record.
Texting would be a primary offense, meaning police could pull over motorists for texting alone.
Twenty-three states and the District of Columbia already ban text messaging for all drivers, according to the Governors Highway Safety Association.
Steven M. Gursten is recognized as one of the nation's top experts in serious car and truck accident injury cases and automobile insurance no-fault litigation. Michigan Auto Law has received the largest reported jury verdict for an automobile accident case in Michigan in seven of the past 10 years, including 2009, according to published year-end verdicts and settlements reports.
Related information:
Avoiding Car Accidents in Michigan
17 Mistakes that Can Kill Your Auto Accident Case
Your No-Fault Insurance Rights
Michigan Auto Law is the largest law firm exclusively handling car accident, truck accident, motorcycle accident and bus cases throughout the state. Call (248) 353-7575 if you've been injured in an auto accident, and would like to speak to a lawyer.