Michigan lawyers welcome new law that will surely prevent car accidents and save lives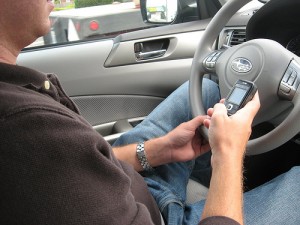 After extensively blogging about the extreme dangers of texting while driving, I am elated to report that Michigan has adopted a legal ban on texting while driving a motor vehicle. With the new ban, drivers who text message can give legal cause for police to pull them over and issue a ticket.
Michigan joins 18 other states with similar anti-texting while driving laws. And for the car accident lawyers who work at Michigan Auto Law, we have only one word to add: Finally.
According to an article by the Detroit Free Press, the bill won't go to the governor for signing until the House approves a companion bill that prohibits adding points to a driver's record for text messaging. Nevertheless, the main bill is a victory for safety advocates. Now it's up to lawyers and other civil justice and safety groups to keep educating the public on just how dangerous text messaging is when driving a car.
The ban is to take effect on July 1. It will surely save lives and prevent needless car accidents.
Texting and Distracted Driving: The Facts
As of now, the accident statistics stemming from texting while driving are going up. Latest numbers from the Virginia Tech Transportation Institute (Summer 2009) prove the act of writing a text message while behind the wheel is one of the most dangerous things a driver can do. That "How r u?" can make a car crash 23 times more likely for truck drivers and six times more likely for most motorists.
The Michigan Office of Highway Safety Planning said that police across Michigan noted on crash reports that nearly 900 drivers involved in car wrecks were using cell phones – out of 3,315 crashes where officers noted distraction of some sort in 2009, the Freep reported.
And the National Highway Traffic Safety Administration, which encourages states to pass such bans, attributed 6,000 deaths and 500,000 injuries to distracted driving in 2008. President Barack Obama even issued an executive order last fall prohibiting federal employees from texting while driving on the job or in government vehicles.
Again, the lawyers of Michigan Auto Law have seen far too many preventable car accidents resulting from distracted drivers texting and talking on cell phones. To put things into perspective, I tell my clients and loved ones that research shows talking on a cell phone while driving can have the same effect on perception and reaction timing as driving with four drinks in your system. Texting can have the same effect as driving with eight drinks in your system.
With this new law, we can say with scientific certainty that more car accidents will be prevented, and that lives of Michigan residents will be saved. Obviously, this is an area that I'm quite passionate about; and this new law is a relief for me and the other personal injury lawyers who work here.
I sincerely hope you will consider the car accident statistics I've provided above, and the safety of others when you get behind the wheel and make decisions that can cause distracted driving. And if that isn't enough, maybe the new possibility of legal fines and tickets may help before you pick up that phone to text while driving.
– Steven M. Gursten is recognized as one of the nation's top experts in serious car and truck accident injury cases and automobile insurance no-fault litigation. Michigan Auto Law has received the largest reported jury verdict for an automobile accident case in Michigan in seven of the past 10 years, including 2009, according to published year-end verdicts and settlements reports.
– Photo courtesy of Creative Commons, by mrJasonWeaver

Related information:
Be Prepared in Case of a Car Accident
17 Mistakes that Can Kill Your Car Accident Case
Michigan No-Fault Resource Center
Michigan Auto Law is the largest law firm exclusively handling car accident, truck accident and motorcycle accident cases throughout the entire state. We have offices in Farmington Hills, Detroit, Ann Arbor, Grand Rapids and Sterling Heights to better serve you. Call (248) 353-7575 for a free consultation with an auto accident attorney. We are always here to help.