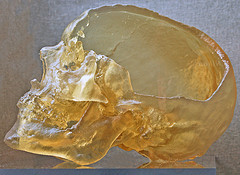 Both lawyers Brian Bornstein and my friend from Texas, Steve Laird, recently commented on my observations about the critical connection between traumatic brain injury and chronic pain in The Jury Expert. It is a connection that most personal injury lawyers miss.
The Jury Expert is an online litigation advocacy publication. The article that started the discussion is called  "Injured Body, Injured Mind: Dealing with Damages for Psychological Harm". It addressed the double standard with respect to the law's treatment of physical versus psychological injury. I had originally commented that there's not only a double standard between physical and psychological injury, but in most serious personal injury cases, that line becomes blurred. Science has now shown that injury to the mind affects the body, and likewise, injury to the body affects the mind.
In fact, most of the new science on chronic pain shows that exposure to long-term (chronic) pain can actually cause a re-wiring of the brain itself, as chemical and organic changes literally change people's brains due to the continued exposure of pain. That is why many personal injury lawyers make a fatal mistake when helping victims of very serious physical injury cases: They continue to pigeon-hole these cases as "just" physical, and do not understand the interplay between the physical and psychological and more importantly; how the physical injury can actually cause damage to the brain over time.
As a lawyer handling car accidents, I have seen many clients struggle with the life-altering psychological effects of traumatic brain injuries, including many chronic pain patients. Many defense attorneys and insurance companies simply dismiss TBI and defend these cases in a derisive and disrespectful way, causing even more harm. I commend The Jury Expert for addressing this important issue head-on.
I regularly blog about TBI, and I have a written a special section in my website to help lawyers help brain injury victims after car and truck accidents. I want these lawyers to be aware of some of the special challenges that traumatic brain injury cases face in Michigan, considering our laws on objective manifestation and the closed-head injury exception to our serious impairment threshold in auto accident cases. My train of thought is that if plaintiff's lawyers as a whole can improve and get better results for brain injury victims, than insurance companies will not treat brain injury victims so badly.
Perhaps one of the very few positive things that I can point to with the wars in Iraq and Afghanistan is that society is becoming more aware of the horrible effects of brain injury. Soldiers with "mild" TBI are coming home and suffering major problems, including homelessness, drug abuse, sky-rocketing divorce and suicide rates. It's heartbreaking that it has taken such tragedies to raise awareness, but at least Congress is appropriating more money to help victims of traumatic brain injury deal with these losses. Perhaps society might now recoil in disgust, as they should, when insurance defense lawyers treat injured TBI victims so badly in court, dismissing these "invisible injuries" as phoney and telling TBI victims to "get over it."
Here are the comments this article received:
My friend Steve Laird wrote: Mar-25-2009
This article is an excellent reminder to lawyers representing clients with emotional injuries that we need to take extra steps how we relate those injuries to the jury. Even lawyers sometime fall into accepting the double standard mentioned when damages are investigated, prepared or presented. The suggestion to emphasize the physical effects cannot be repeated often enough. Good work on an important bias existing in society and our legal system.
I wrote: March-25-2009
The authors make an excellent point about the interconnectedness of the mind/body connection. However, I would add that there is also a great deal of research that they did not comment upon that is critical for plaintiff personal injury attorneys to adequately represent their clients: That chronic pain actually causes structural and chemical changes in the brain that can continue to sent pain signals long after the physical injury has resolved. Critical for good lawyers to get past the disparate treatment of mental and physical injuries – and the jury instructions that treat these personal injuries as separate in, for example, jury instructions in an automobile negligence case!
Brian Bornstein wrote: Mar-25-2009
Gursten is absolutely right, chronic pain is another condition where the physical and psychological elements feed on each other and are very hard to separate. Phantom limb pain would be another good example. Once you start to think about it, the list is virtually endless.
If you have been in an auto accident and suspect you have TBI, you can call Michigan Auto Law and speak with an attorney at any time, at (248) 353-7575. We understand the emotional and physical trauma brain injury victims experience, and we are here to help you get through it.
– Steven M. Gursten Steve received a trial verdict of $5.65 million for a TBI victim in 2008; the largest reported auto negligence verdict in Michigan for the year. He speaks and lectures widely on traumatic brain injury, including at last year's MAJ Traumatic Brain Injury Seminar and the No Fault Institute. He is a member of the AAJ Traumatic Brain Injury Litigation Group and several foundations devoted to helping brain injury victims, including the Brain Injury Association and the Sara Jane Foundation.
– Photo courtesy of Creative Commons, by otisarchives4

Related information:
What is Traumatic Brain Injury?
Steps TBI Victims Must Take Following an Accident
Michigan Auto Law exclusively handles car accident, truck accident and motorcycle accident cases throughout the entire state of Michigan. We have offices in Farmington Hills, Sterling Heights, Ann Arbor, Grand Rapids and Detroit to better serve you.