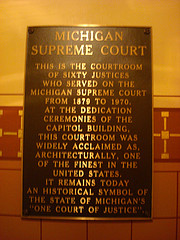 Jose Brown, the chairperson of the State Bar of Michigan Negligence Law Section, wrote an excellent rebuttal to the Detroit Free Press Oct. 11 editorial on the Michigan Supreme Court. Mr. Brown is an insurance defense attorney, and as a car accident lawyer, I respect him very much. He is also highly regarded by many other lawyers and judges.
The key point of his letter is that after a shamelessly activist and extreme right-wing Court decimated decades of Michigan precedent and case law — protecting insurance companies over injured consumers no matter how absurd the result — the Freep should not now opine that restraint should be shown by our new, more moderate and centrist Court if an opportunity to restore common sense to Michigan law exists. Examples of how ridiculous things have become after the old Court's extreme rulings are expressed below by Mr. Brown far more eloquently than I could do so:
Your Oct. 11 editorial, "Restoring Judicial Restraint," hits the mark, then misses the point. You rightly reveal how destructive the previous state Supreme Court was to the rights of citizens and families. But then you advise the present court to accept the legal system that the previous activist court left.
That court reversed decades-old precedent that held road commissions and local governments responsible for properly maintaining traffic signals. Under the new law that the activist court created, they can now allow traffic lights to malfunction without any responsibility, even if they ignore lights they knew were broken. So if all four lights at an intersection mistakenly show green, and cause two school buses to collide and kill the children, there is no liability on the part of the errant city or road commission.
In that instance, the court wrote a new definition of an old law that had always been understood to require safe traffic lights. It was not an oversight by the Legislature. Will this Legislature restore the old law, as you suggest? It is unlikely to agree on anything, as we are seeing in the budget debacle. Should this new law stand simply because the court ruled that way, as you suggest?
All high courts occasionally overturn or reshape precedent. Precedent is not sacrosanct simply because it exists. In its essence, precedent is binding because it is well considered, wise and legitimately created. That court routinely discarded precedent authored by the most well respected legal minds, precedent that stood the test of decades of examination and that all sides understood and accepted as fair, true and correct law.
Nevertheless, the court's opinions became the law, but the beauty of precedent is that it can be reshaped by future courts in the interests of justice for all.
Jose T. Brown
Chairperson
Negligence Law Section
State Bar of Michigan
– Steven M. Gursten is recognized as one of the nation's top experts in serious car and truck accident injury cases and automobile insurance no-fault litigation. Steve has received the largest reported jury verdict for an automobile accident case in Michigan in four of the past seven years, including 2008, according to Michigan Lawyers Weekly.
– Photo courtesy of Creative Commons, by CedarBenDrive
Related information:
Michigan No-Fault Insurance Law
Michigan Auto Law is the largest law firm exclusively handling car accident, truck accident and motorcycle accident cases throughout the entire state. We have offices in Farmington Hills, Detroit, Ann Arbor, Grand Rapids and Sterling Heights. Call (248) 353-7575 for a free consultation with an auto accident attorney.