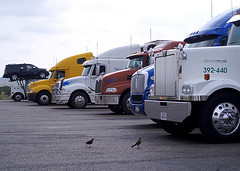 Truck accident attorney Steve Gursten was recently interviewed for the CSA 2010 Initiative, which aims to develop effective methods for the Federal Motor Carrier Safety Administration with industry and state partners to reduce commercial truck accidents, wrongful deaths and personal injuries.
Steve's interview was posted on the organization's Web site. The intent of the conversation was to get a lawyer's perspective on CSA 2010 and its effect on litigation within the trucking industry. Steve was adamant in his hope that CSA 2010 would succeed in its attempt to reduce truck and bus crashes and help to make our highways safer for everyone.
CSA 2010, or "Comprehensive Safety Analysis 2010", is an online resource from the Federal Motor Carrier Safety Administration used to identify any and all at-risk behavior conducted by truck companies and truck drivers. It will be launched in 2010, replacing SafeStat.
With SafeStat, an attorney investigating a truck crash can access the Department of Transportation's "snapshot" assessment of a particular motor carrier's regulatory compliance. This information is so valuable that the lawyers and insurance companies defending catastrophic injury truck accident cases have lobbied – successfully – for changes to prevent plaintiff truck accident lawyers from accessing all of the site's data, hence, CSA 2010.
Our truck accident attorneys believe CSA 2010 will enhance and restrict SafeStat's usefulness for truck accident attorneys, the media and insurance companies. Read my previous blog on CSA 2010: How to Make Truck Companies More Dangerous.
– Steve Gursten is recognized as one of the nation's top attorneys handling serious truck accident injury cases. He is on the executive board of governors representing Michigan for the Association of Plaintiff Interstate Trucking Lawyers of America and is immediate past president of the American Association for Justice Truck Litigation Group. Steve received the largest 2008 settlement in Michigan, according to Michigan Lawyers Weekly. It was for a truck accident case.
– Photo courtesy of Creative Commons, by ReneS
Related information:
Bad Trucking Companies in Michigan
8 Things You Must Know about Your Truck Accident Case
Michigan Truck Accident Investigation
Help for Attorneys Handling Truck Accident Cases
Michigan Auto Law exclusively handles car accident, truck accident and motorcycle accident cases throughout Michigan. We have offices in Farmington Hills, Detroit, Sterling Heights, Ann Arbor and Detroit. For more information, please read our law firm quick facts.