Client Testimonials
I was referred to Michigan Auto Law by another attorney. Brandon was wonderful. He came to my home to assist me from the very beginning. I had the best experience with him. I cannot say enough great things about all he has done to help me with my case. To say he went the extra mile is an understatement. He is perfect! I am definitely going to recommend others to Brandon at Michigan Auto Law
LOAD MORE
Working with Brandon
Brandon's mission is to make every client of Michigan Auto Law's legal experience as easy and exceptional as possible. He works closely with all of Michigan Auto Law's attorneys and professional staff so that we can continue to deliver the results and communication that our clients have come to expect from the most successful automobile accident law firm in the State of Michigan.
Brandon divides his time between being one of Michigan's most successful auto accident attorneys and as Michigan Auto Law's COO. As a trial attorney, he has recovered millions of dollars in compensation and benefits for his clients, including the largest pain and suffering jury verdict in Ottawa County history – a trial verdict that was over 10 times the defendant's final offer.
Education
Wayne State University Law School
Graduated Cum Laude, Top 15% of class
Sports and Entertainment Law Society, Vice President
Christian Legal Society, Vice President
Moot Court Invitee
Ferris State University
Graduated Summa Cum Laude, Top of class
Golden Key International Honor Society, Chartering Officer
Ferris State University Student Government, Finance Committee
Ferris State University Honors Program, Alumni Keynote Speaker
Music Industry Management Association, President
Honors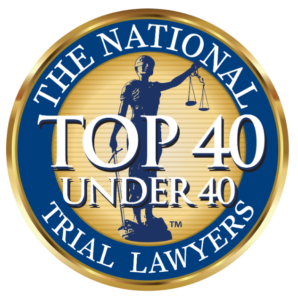 Notable West Michigan Lawyer: Recognized by Crain's Grand Rapids Business Journal
Michigan Super Lawyers: Selected annually since 2013
Grand Rapids Magazine's list of Top Lawyers: 2019 – 2022
The National Trial Lawyers Top 100 and 40 Under 40 lists: 2015 – 2022
Memberships and Affiliations
2023 West Michigan Chapter of the Federal Bar Association
Michigan Association of Justice – Executive Board
Michigan Association of Justice – Co-Chair: Autonomous Vehicles Committee
American Association of Justice
Center for Progressive Leadership
Michigan State Bar
California State Bar
United States District Court – Western District of Michigan
United States District Court – Eastern District of Michigan
Presentations and Events
Speaker, "The Future of Auto Law: Autonomous Vehicles"; Michigan Association for Justices' No-Fault Institute XIX; Novi, MI; October 14, 2022
Client Testimonials
Michelle Bell
from

Traverse City, MI
I would like to thank Michigan Auto Law with their help of our deceased son. My husband and I would not of known where to even begin if we did this on our own. We first met with Brandon and Jeremy, they made us feel welcome, they were sympathetic and really listened to us. After our visit they just took over for us. They kept us informed every step of the way. If we had questions and called they had the time for us and didn't make us feel like we were a burden. I would definitely recommend Michigan Auto Law to anyone.
Robert Scribner
from

Warren, MI
Great communication every step of the way. My settlement was larger than expected. I am very happy overall
I was very paranoid looking at the auto accident commercials I was seeing on the television every day. I decided that I needed to look for my own attorney. I called a few firms and decided to settle on Michigan Auto Law. I initially met with Brandon. He was very easy to speak with and answered all of my questions. My attorney Josh made this terrible situation very easy for me. He always responded to any of my questions and concerns quickly. I will be recommending others to Michigan Auto Law for sure.
Patricia Moes
from

Zeeland, MI
I was very happy with BRandon
Chelsey Kelly
from

Sand Lake
Brandon Hewitt and Tom Baker were amazing with the whole process and also helping with the health insurance and problems we ran into there . They explained every step of the way and what to expect, taking away alot of stress and making easier for me to just focus on recovery I would recommend this firm to anyone who needs help with a auto accident . There is not enough good things to say.
Jennifer Essenyi
from

Caledonia
They have been super! Answers emails & phone calls quickly. & answer all my questions. I'm told the truth about situations and what my options are them left to make my own decision and supported whatever direction I took. They have communicated with hospitals, vendors, and our insurance company on my behalf. I have experienced being taken care of and I would let them take care of my family & friends.
Kary Scheiern
from

Rockford
Brandon and Rick went above and beyond to help me. At request of my family, they came to my hospital room to meet with me the first time. They regularly stayed in touch by phone and email as the case progressed. They gave me simple and easy suggestions that I could do that saved money on attorney fees, and were therefore able to keep attorney fees lower and increase my settlement. I would highly recommend their services to anyone who has been injured by another driver in an auto accident. Ultimately, they provided the only form of justice I was able to receive.
Wendy Coleman
from

Zeeland
The best attorney. He help through my case . I would referred Brandon
Brandon was a great attorney. He was very attentive to my needs. He returned every call. He promptly answered every email. He was friendly and caring, even down to the smallest detail of my case. If you are in need of an auto law attorney, look no further.
I initially contacted a law firm where I feel I was brushed off and the care was not there. I am happy that I stumbled upon Michigan Auto Law .They had glowing reviews. They actually specialize in this one area of law. From the moment I called, I knew it was the best decision that I could have made for myself. Brandon, Alison, Larry, Bobby, and Colleen were all great. They educated me on this whole experience in a way that I could not believe. I was always informed, and they were available to me at all times. I extremely happy with Michigan Auto Law.
Ernestine West
from

Detroit
I had a very difficult and complicated case and was not sure I even had a leg to stand on. The attorneys at Michigan Auto Law did their research and turned my questions into answers. Thank you to Josh Terebelo, Alex Kemp, Alison Duffy, and Brandon Hewitt.
Brandon Hewitt addressed my concerns in regards to my auto accident. He had truly answered all my questions.
When I first started looking for an attorney to help me after my car accident, I did a Google search and came across Michigan Auto Law. I wanted to go with a law firm that did not advertise on television. After an extensive interview with Larry, I was confident choosing this law firm. I felt very comfortable with my main attorney Kevin and trusted his advice. He explained the entire process and had me well prepped throughout the entire ordeal. I am very happy with my experience at Michigan Auto Law and want to thank Kevin, Brandon, Larry, and team members Elize and Amy.
Jodi Hillerich
from

Allendale
I truly appreciated all the help I received from my attorneys at Michigan Auto Law. I felt they fought for me every step of the way and made sure I understood the process and the possible expectations. I always felt that I could reach out to them at any time and they would respond to my questions. They helped me settle my case for a fair value and I am very happy with the outcome. They were very compassionate and understanding all along the way and made sure they knew how I was doing in the healing process. Thanks for all your hard work!!
Rosemary Soto
from

Battle Creek
I recommend anybody who is dealing with a car accident to call Brandon Hewitt for there legal assistance through a hard time he took care of his business he was a man of his word couldn't ask for better representation . excellent service and gave me highest standard service from taking care of me I wanna thank you again and Rick was awesome too .
Michigan Auto Law was the best decision I could of made after my auto accident. I was able to concentrate on healing and they took care of everything else. Brandon, came to my home to start the lawsuit process. He was awesome and did a wonderful job explaining the process to me. Kevin was my trial lawyer and he kept me informed throughout the process and I believe that he had and still has my best interest in mind all times. Amy and Elise were very kind and helpful handling all the many phone calls and paperwork. Going through a lawsuit could of been so much more stressful than it was but due to Brandon, Elise, Amy and Kevin's commitment to me. I felt at ease and comfortable throughout the entire process. Thank you! I was pleased with the final outcome and highly recommend Michigan Auto Law!
Monica Davis
from

Holland
Very helpful through the whole process. Thank you.
Kelly Breland
from

Tustin
I have no complaints! Great response, Great company, great service, and great people. Highly recommend them to anyone! Very informative, and great at keeping you in the loop.
I'm very happy with Michigan Auto Law's work on my behalf. They were always communicating on a timely fashion, they were never late in providing a response, and they were available by phone or email anytime that I had pressing matters. More importantly, I immensely appreciated their honesty and the advice they provided turned out to be enormously valuable, specific to my case. I definitely recommend this law firm. Brandon was my attorney concerning my car accident, himself and his team were very professional, attentive and comprehending through out the remainder of my case.
Michigan Auto Law was Exceptional in their handling of my Case. I highly recommend them for any help with an Auto claim, very professional and helpful with my every need they kept me well informed on all the details of my Case and made me feel like Family. Brandon was Wonderful and had me at ease the entire time answering all my questions in a prompt manner
Great people who were very thoughtful of my every need. Highly recommend
Very professional and important to me, very nice!! A very good experience and Brandon has been great!!!
Brandon is a very honest and compassionate attorney who communicates very effectively and supported me through a very difficult time in my life.
So prompt, professional and efficient! Couldn't have asked for a better experience. Brandon & Barb are an all-star duo!
My attorney, Brandon Hewitt, was extremely helpful and diligent in working my case for a car accident that took place on September 18, 2016. He gave me a clear understanding about my case and vowed to get the best out come for not only myself, but also for my friends who were involved in the accident as well. I would recommend Michigan Auto Law to anyone who may be dealing with challenges due to an auto accident.
Amazing but most importantly professional service. Brandon and his team really made me feel comfortable during a rough time after my accident. I would recommend Michigan Auto Law to anyone I know going forward and will only use their services.
And a great experience I would highly recommend them just waiting for the finalization of mycase we're very pleased with what appears to be the outcome
My experience so far has been very good people have been very helpful just waiting on the final results and and bring the negotiation with the insurance company to an end
Scott Scholten
from

Benzonia
Thank you to Brandon Hewitt, Barb, and Linda. Brandon and his team with Michigan Auto Law helped restore lost wages. I was also given early treatment for my lifelong cervical spine injury and a plan for treatment going forward. Brandon personally sat with me during many deposition hearings, walking me through each step of an at times scary and intimidating process. Michigan Auto Law and in particular Brandon Hewitt come highly recommendaded for any and all motor vehicle legal accidents. Professional, prompt, proactive, to the point, confidant, and always courteous. Thank you Michigan Auto Law and to Brandon Hewitt! The Scott Scholten family!!
Virginia Gray
from

Grand Rapids
Thank you for helping me and my family when we needed you. You were always there. In the beginning I didn't have to come to you, you came to me, or sent someone who was competent enough to do the job for you. You didn't mind answering questions and they were in words that we could understand. Everything worked out well, and we were satisfied with your help. Each time we called the office, your secretary was right on point, kind and courteous. Again thank you for your assistance.
Monique Scott
from

Grand Rapids
Brandon Hewitt and his team did an amazing job winning my case. They were quick at responding to any questions I had. They made this process smooth and easy on my end. I would recommend Michigan Auto Law to anyone and everyone! Thanks again
Brandon was amazing in taking care of my mom, Linda Koning.
Scott Estrada
from

Rockford
It was a pretty smooth process. I am happy with the outcome, however still suffer from the neck injury.
Fatimah G. Hutchinson
from

Grand Rapids
My attorney, Brandon, worked really hard to help me. For that I'm appreciative!!
Andrew Delraso
from

Ekalaka, MT
Very professional and understanding to the needs of their clients
Igor Primak
from

Grand Rapids
Brandon Hewitt and his team espoused great professionalism in his caring throughout this trying time. I will recommend MAL in the future while working to better the lives of other auto injury survivors. Thank you Brandon!
I was referred to Michigan Auto Law by another attorney. Brandon was wonderful. He came to my home to assist me from the very beginning. I had the best experience with him. I cannot say enough great things about all he has done to help me with my case. To say he went the extra mile is an understatement. He is perfect! I am definitely going to recommend others to Brandon at Michigan Auto Law.
Brandon is an amazing person. He helped me fell comfortable and made sure I understood everything that was going on. He helped me get the best outcome for me and worked with me on what I felt comfortable doing. Thank you for everything.
Steven Slominski
from

Alpena
I found Brandon to be extremely knowledgeable and friendly. This was definitely a learning experience for me. And Brandon and your organization helped me through a very stressful period of my life.
I was extremely happy with working with this firm. They made things very easy for me. Brandon and Jordan are wonderful attorneys. They were very thorough and always got back to me very quickly if I had questions. I have told many people about this firm and about the wonderful treatment I received from Brandon and Jordan.
Chris Copeland
from

Detroit
Ian and this firm have assisted me in my hardships since my accident. Brandon, Laurie, and Ian have been a great asset to me and my case. I was referred by a family member to this law firm. This was no doubt the best recommendation I could have gotten. The entire staff has shown me nothing but respect throughout this entire process. Response time to emails and phone calls were also very prompt.
I started out with Brandon. He was really great. I then started working with Josh. He was always responsive. I am very appreciative of his treatment of me and my son. I consider Josh a big brother. Me and my son have already recommended others to this firm. I am very pleased with the outcome of my case.
Marquette Demarais
from

Macomb
This was my first time being in an accident so I did not know what to expect. I started with Brandon who was very pleasant and easy to talk to. Then I went with Josh. He answered all of my questions which were many and he was quick to respond and very thorough. I would recommend friends and family to this firm.
Michael Werkman
from

Shelby Township
Overall I had a good experience. Brandon always made sure to get back with me as soon as he could. I would recommend friends and family to this firm.
Brandon and Josh were very welcoming and friendly. They did exactly what they said they were going to do and they were always available when we needed them. They're very good lawyers, very good at what they do. They negotiated with the insurance company and guaranteed we were going to get a settlement out of this ordeal after my accident. I was very satisfied in picking this law firm!
I was at a stop sign approaching a busy road and I was T-boned by another driver who was on the shoulder rather than being on her lane. I went to the ER and was released that day, but the biggest problem I had was with my shoulder. The pain was so bad that that I wasn't able to take care of my grandchildren like I was used to. I knew about Michigan Auto Law because of the great things Michigan Lawyers Weekly had written about the firm (I actually used to work there in advertising). So I called Steve Gursten and told him about my accident. He kindly took the time and got back to me and said Brandon Hewitt would be in touch to get my case rolling. Brandon started out my case and the fact gathering. Brandon did a great job of introducing the process. He met with us and was very helpful in helping us understand where we were going with the lawsuit. Brandon was also really helpful in handling the no fault claims for doctors. He was easy going and it was a nice experience to work with him. Once it was determined I had a solid case, Josh Terebelo took over. Josh did a terrific job for me and my wife. Right from the beginning, he was very helpful in understanding where we might go with this case, and helped us all the way through to a fantastic trial verdict in Brighton, where we live. Josh was very organized. He helped us understand step by step what was coming, what his expectations of us were in court - and prepared us for the upcoming trial. He, like Brandon, understood what might be happening and assured that we would be comfortable with what our role would be during the trial. The insurance company for the driver who hit me offering a settlement that was very short of our expectations. Josh wouldn't accept less than what we deserved and he was willing to fight for us in trial. Josh's confidence in the ability, credibility and evidence in our case encouraged us to trust that the system would see the truth and be fair in its outcome. We were very pleased with the outcome of the jury. Josh did a great job representing us at trial as well. You could even tell the judge appreciated Josh because he was prepared and organized. With his confidence and preparedness, he did a great job in his closing statement. Basically under the circumstances, it was a pleasure working with Josh. My wife and I wouldn't hesitate to recommend Josh, Brandon and the great people at Michigan Auto Law. We are thankful for the help and support they gave us after my car accident.
When I first stumbled upon Michigan Auto Law, I was initially a little skeptical of the high reviews. I figured that based on the reviews it was at least worth a shot to get a free consultation. I had a fairly guarded mindset going into the call, but that changed as soon as I spoke to the first person from Michigan Auto Law. From the secretary who first greeted me, to the paralegal who took down my information, I was blown away at both how professional and genuine the staff at Michigan Auto Law (MAL) treated me at every step in the process. I was given a call back within a few hours by Brandon Hewitt, an attorney at MAL. Brandon patiently walked me through the dozens of questions that I had in my head. He was able to articulate exactly how to approach the situation and all of the possible outcomes that I should be expecting. Time and time again he answered one question after another with such patience and thoroughness that I left our one hour call with a renewed sense of confidence that we were going to do everything in our power to help improve the current situation. In addition to Brandon reaching out to me, one of the partners of the firm, Larry Gursten, personally reached out on multiple occasions to let me know that MAL was going to put the resources of their law firm behind me if I was to choose to go with them. Within minutes of that conversation, I felt very prepared to move forward with the decision on selecting MAL to represent me. If I was to impart with all the readers of this review with one takeaway about Michigan Auto Law, then it would be that they truly care about their clients. The insurance company actually offered a settlement and this actually eliminated the need to have legal representation for our case. Not only did Brandon offer to look over the final papers for us, but he did so with the best intentions. There is absolutely no doubt in my mind that if you should choose Michigan Auto Law as your law firm if you or a loved one has been in an automobile accident. Going through the accident process is a very tiring and time consuming process. The last thing you want to worry about is having to navigate through the workings of the legal system while caring for yourself or a loved one. If I haven't made it painfully clear that Michigan Auto Law was the best decision I have made in terms of selecting a law firm, then I haven't done the firm justice.
Fariz Hariri
from

Farmington Hills
Brandon was my lawyer and he helped me a lot. When I came to Michigan Auto Law, he was really nice and friendly and he told me what steps I needed to take in moving forward in my No Fault lawsuit. Not only did he instruct me what I needed to do on my part, but he handled everything in the lawsuit for me. He secured my medical benefits, housekeeping and everything that I'm allowed under Michigan No Fault. He was always in close contact with me giving me updates and answering my questions. I liked Brandon because he was constantly in touch with me anytime I needed him. So I would definitely recommend Brandon as an auto accident lawyer. I had a great experience.
Brandon was very wonderful, patient, understanding. I liked working with Brandon as my lawyer a lot. I was in an auto accident. I actually got hit from the rear, and he assisted in getting the insurance companies to cover my surgeries and my physical therapy. He guided me though that process. He's very calming and I liked that. I would definitely recommend Brandon and his colleagues are just as great as he so I would recommend this entire firm. I came here because I was hurt but the way I was treated made it a good experience out of a bad one.
Pat DeRush
from

Farmington Hills
I live in Canada, but I'm an American citizen and I was in an accident in Michigan when I was visiting. I went online because I didn't want to go with anyone in Sarnia. I thought Michigan would have been a better fit for me. The lawyers at Michigan Auto Law seemed to be rated the highest, so I went with that. My lawyers Tom James and Brandon Hewitt helped me tremendously. Brandon started off my case and he's a great guy. He always had an answer to my questions and e-mails. Then my case turned over into litigation with Tom. He was excellent and friendly, too. I would definitely go back to Michigan Auto Law again. I'm happy with my experience. They were able to have contact with Canadian attorneys while working on my case.
Maurice Hodges
from

Southgate
I found Michigan Auto Law online and I called to see what they had to offer in terms of explaining my rights. The other places I called didn't respond or were not personable. That was not the case with Michigan Auto Law. The lawyers are responsive and kind and they know their stuff. There's a very professional feel at this law firm, especially with my lawyer Brandon. He is very communicative, personable and warm. I can tell that he actually cares about his clients as opposed to it only being about the case. Brandon explained the laws to me and made me feel a lot better about my recovery - and he handled my lawsuit very well. I recommend Michigan Auto Law, especially Brandon, if you want an attorney that cares about his clients and that will fight for his clients wholeheartedly.
I was in an auto accident. I was hit by an uninsured person and I lost my job because of my injuries. I found Michigan Auto Law on the internet, and I chose this law firm because of all of the great reviews I read. I knew it would be the best place to help me with my claim and that the attorneys would treat me right. Brandon Hewitt didn't disappoint. I rate him a 10 across the board! He did a superb job for me. He helped me get my pain and suffering claim and he got my lost wages check because my insurance company was giving me trouble. I'm very disappointed with my insurance company. But Brandon and Michigan Auto Law made things right by obtaining my settlement and insurance benefits for me. I would refer them to anyone that needed help in an automobile accident.
I was in a car accident last Mother's Day and I just wanted to know what my options were, because the crash was not my fault. First I talked with Jeff Bussell at Michigan Auto Law. He gave me some advice and told me what benefits my insurance company would cover. Jeff was incredibly helpful. Then he connected me with Brandon Hewitt, who has been helping me ever since. Brandon as been wonderful with representing me with my insurance company when they were giving me problems as far as payments. He also has wonderful communication via e-mail or phone. I never had a problem getting a hold of him. Overall, I'm very happy with Brandon and the settlement he got me. I would absolutely recommend Brandon and Jeff. They are with you every step of the way.
I was at a complete stop and going onto Telegraph from the 7-11 on the corner of 7-11 and Oxford, and a car was in the wrong turning lane and hit me. The accident was the other driver's fault. On top of that, she had no car insurance and was driving on a driver's permit. I called Michigan Auto Law to see if I had any rights. Even with the other driver uninsured, they were able to get me a settlement. Brandon Hewitt was able to help me quickly. He was great and the communication was excellent. Brandon touched base with me on a normal basis and made sure I was comfortable. He would always answer his phone and we would e-mail as well. I would definitely recommend Brandon for the help and genuine concern he showed me.
After my car accident, I originally had a local lawyer representing me and she thought I would do better if I got a specialist, because she didn't think many people would take the case in Michigan. It was a tough one that wasn't worth much because the driver that hit me was uninsured. A 16-year-old who was driving without a driver's license, without a vehicle being registered and without insurance, ran into my car when I was driving with my daughter. I was looking online to see clients' opinions and that's how I noticed Michigan Auto Law, because I wanted someone that specialized in auto law. Brandon Hewitt agreed to take my case. He did a great job as my attorney. Brandon knew what he needed to do so I would end up getting money after my extensive Blue Cross insurance co-pays were paid off. This was a great help because I had been off work for a year and a half due to my injuries and for the last six months, I had no income. Without that money, I would not be caught up right now. I probably would have ended up losing my house and my car and everything. So I'm very grateful for Brandon. Whenever I called, he would always call back. He was always very informative in telling me what was going on, what needed to be done and what his deadlines were. Even though it was a small auto accident lawsuit, he still made me feel like my case was important and my needs were important.
Jodi Isaacson
from

West Olive
I would highly recommend Michigan Auto Law. The friendliness and professionalism of the staff, as well as their expertise in auto accident cases is what made me choose the law firm after I was rear ended at a stop light and hurt my back and neck. I found the law firm online, and when I initially called with questions, one of the car accident attorneys immediately had time to talk to me. He took his time and didn't put me off. I really liked my lawyer Brandon Hewitt. He was very professional and got back to me right away with answers. I worked well with him. He is very good at what he does. My auto insurance company quit paying my wage loss and cut off my medical benefits, but Brandon took care of it. We ended up having to sue my insurance company. Michigan Auto Law did good by me.
My wife and I were traveling south bound on US-23 when a drunk driver traveling north bound at 90 miles an hour crossed the median and ran us over head-on. It took 45 minutes to cut me out of my car. After my serious injuries, I went online to start searching for a lawyer to see if I could get some help. I read some of the lawyer testimonials and I decided to give Michigan Auto Law a call. I felt I made the right decision choosing my firm because they are specialized in what I need and I was treated very well. My attorney Brandon Hewitt was a real nice guy, easy to talk with, and he explained everything to me. The litigation for my auto case could have gone up to several years, but Brandon settled the lawsuit within a year, and that made me feel really good. I got full compensation that was available through the auto insurance.
LaTonya Wilson
from

Jackson
I was stopped at a red light going to work. A semi truck didn't see me and he just crashed into the back of my car. My car, with my children in it, was thrown one block. If I would have been one light up, I would have been thrown into the intersection of Van Dyke. The driver may have fallen asleep. I needed a truck accident lawyer because I couldn't walk. My friend used Michigan Auto Law and highly recommended them. It was my first time dealing with lawyers. I didn't know anything about the law so I put my trust in this firm. I liked my lawyer Brandon Hewitt. He was nice, patient and compassionate. He explained things I didn't understand, so I knew what was happening with my case. I feel good now that my truck accident lawsuit is closed and I can start putting my life back together.
Janice Lewis
from

Kentwood
My accident attorney Brandon Hewitt was great. Me and him communicated pretty good, and did pretty good together. He was good about getting back with me when I called and had questions. Everyone at Michigan Auto Law was, from the paralegals to the front desk. Michigan Auto Law is the perfect law firm for people injured in car accidents, because that's all they do.
Barbara Harris
from

Milford
After my car accident, I was lost. I didn't know what to do, where to go, who to turn to, or any of that. That's why my favorite thing about my experience with Michigan Auto Law is the thorough explanation and feedback I received whenever I needed it. Brandon Hewitt, my auto lawyer, was very careful in explaining the law to me, and so patient. He always answered the phone when I called, and he always made me feel like everything was going to be okay. Tom James also helped me immensely by explaining things to me about my lawsuit in a pleasant manner. I would tell anyone in a car accident to contact this law firm as soon as possible. It's okay to ask any kind of question.
Stevan Simijanovic
from

Shelby Township
I was hit on I-696 as a pedestrian. I didn't know how the legal process worked and I was scared I would be responsible for my no-fault medical bills because I had no health insurance. Thankfully, everything about Michigan Auto Law and my attorneys was excellent. All the questions and needs I had were covered. I was amazed how good of treatment I got. Brandon Hewitt was the lawyer working my case. He was very nice, very polite and supportive. Even when I had difficult decisions to make, he was there to guide me and explain what would be in my best interest. In my physical therapy programs, I talk about this law firm and tell people to go over there. Everything with my pedestrian accident lawsuit went smoothly. I don't have words to explain how good the entire process was. I look at my lawyer Brandon and Michigan Auto Law as part of my family!
Latasha Williams
from

Warren
My attorney Brandon Hewitt was awesome. I sought legal advice from Michigan Auto Law when I was in a car accident on my way home from work. I was taken to the hospital by ambulance, and knew my back was really messed up. Brandon was always concerned and very cordial. I know it was a business relationship, but he made it feel like it was more of a friendship. He would ask about my family and how I was feeling. Little things like that matter a lot to me. Brandon also made sure he was familiar with every aspect of my car accident case and the law in Michigan as it related. I was very happy with the way my lawsuit was resolved.
Lashone Burton
from

Lansing
I always appreciated my attorney for his excellence regarding my personal injury lawsuit. He always took the time to explain each and every question that I had. He was courteous and attentive to my questions. He showed me support in my time of need. I would definitely recommend Michigan Auto Law to anyone in need of legal advice or help after a car accident.
I was injured in a car accident. On top of that, the at fault driver was trying to get points taken off his license in court. A judge recommended Michigan Auto Law and said the attorneys here could help me with this situation. I did some research online and I liked what I read, so I took the judge's advice and went with this law firm. My attorney, Brandon Hewitt, was very informative and helped me along the entire process of going through my lawsuit. He is very easy going and very knowledgeable. I'm very happy with my settlement and would definitely recommend him to anyone else.
Janifa Williams
from

River Rouge
I got injured in an accident where somebody rear ended me at a red light. The driver was elderly and on a cell phone. I had to get my neck operated on and so I called to see what I was entitled to after the accident. The first person I spoke with was attorney Brandon Hewitt. He was great. He was very informational and answered all of my questions about how my lawsuit would begin and play out. I decided to hire this law firm because Brandon was so helpful. Then my case was passed to Josh Terebelo. He was also great. Very understanding of the law and had a nice personality. He always told my family and I to call him no matter what time it was. He was accessible 24 hours a day and laid everything out on the table. He didn't make us false promises. Josh did an excellent job at protecting me and settling my case.
Terrie Neely
from

Ypsilanti
Brandon Hewitt is a really great attorney. He's good with sharing information in an understandable way. He's very polite and he's very caring. I don't think you find that all the time with a lot of attorneys. He was always available and if he was in court, he would get back to me very quickly. What I liked about Brandon the most is he really cared - he cares about the person he is working for. I was in a serious rollover car accident with both of my kids in the car. The at fault driver ran a red light and had minimal insurance. Brandon took it personally. He recovered as much as he could for my settlement. I would personally recommend Brandon to friends and family. The secretaries up front at Michigan Auto Law are also very friendly and helpful.
Any time I called Michigan Auto Law, I knew I would get support and answers about my lawsuit. I had several lawyers, and a paralegal and legal assistant helping me. They were always available. Tom James, Brandon Hewitt and Mike Shaffer represented me after my rear end car accident. I knew they were working hard to get me my pain and suffering settlement and to help me with what I needed throughout the lawsuit. If my attorneys weren't available, Robin and Michele were always here to help me. Another nice thing was that Brandon helped us from Michigan Auto Law's Grand Rapids office, being that it was closer to our house. I appreciated that they made those accommodations for us. My husband and I would recommend this law firm for help after an auto accident. They did a great job for us.
Patty Finlayson
from

Plymouth
Brandon Hewitt is a very understanding and personable attorney. He knows the law and how to protect me after my car accident, but it's not just about the rules. I feel like Brandon is my friend. Brandon helped me with everything I needed throughout my case. And most importantly, he listened to me. He gave me options when I wasn't sure what path I was supposed to take, and he was always there for me. Brandon made sure I understood the process and how long it was going to take. I have recommended Brandon to friends already.
I have been treated wonderfully
I got in my car accident and I was telling my friend who is a lawyer what happened. It didn't occur to me that I was going to have trouble with my insurance company. My friend had a feeling and advised me to call an attorney sooner rather than later. He recommended Michigan Auto Law as the prestigious firm that handles auto accidents. I called them right away. My first impression was comfort. Over the past years, I've worked for a couple of law firms and you realize very quickly who is there for the right and wrong reasons. Brandon Hewitt represented me at first and then Josh Terebelo. They understood what I was going through and my frustrations of not feeling well. It was reaffirming to talk with them. Brandon helped me deal with my insurance company – which I quickly learned was not on my side, after they sent me to a doctor who claimed nothing was wrong with me (even though I had a spinal cord injury) and tried to cut off my no fault benefits. Josh also helped me tremendously. He knew my file in and out and all about my medical issues. Both he and Brandon were attentive. I always got calls back. I always knew what was going on. Josh and Brandon prepared me for what was coming next. They made it as smooth as anybody could expect this process to go. Another thing that was important to me was that they approached the case very professionally, but it also seemed as they were my friends. I had cell phone numbers in case I couldn't get them at the office. You really feel as if you have a good team fighting for you and on your side with Michigan Auto. It was a nice feeling. They told me to just worry about getting better and we will make sure we fight and get your medical bills paid. And my medical bills were in the hundreds of thousands of dollars, so that was highly comforting to me! I feel very lucky that I was referred to Michigan Auto Law because I had a fantastic experience.
James Tucker
from

Dearborn
At Michigan Auto Law, everything was handled very professionally, with great courtesy and concern for me as a person. After my accident, I was somewhat nervous about seeing an attorney and once I started speaking with Brandon Hewitt, I felt he sincerely cared about me as a human being. That made me feel so much more comfortable. Everything was handled so professionally and I had great confidence in Brandon's skills. Brandon got me a settlement from the other insurance company. The settlement was great. But it wasn't about the money. When Brandon talked with me, he was concerned about my needs and what was happening with me. I was diagnosed with traumatic brain injury and I had communication issues. Brandon was patient with me and understood me. Having faith and confidence in Brandon's integrity was very important to me. He was very kind. I could tell he was very busy, but no matter how busy he was, he always took the extra time to help me and represent me to the fullest.
Nina Kinney
from

Port Huron
I was hurt in a serious car accident while at work. I knew if I filed a lawsuit, my wife and I wanted to do it right. We found Michigan Auto Law online and after reading the reviews, we knew this was the firm with the strongest record of success. The first lawyer who helped us was Brandon. He was kind and compassionate and always available. He just seemed to care. Brandon gave us all the information about what to do with the next steps through my employer, Michigan No Fault insurance and the workers comp law. Our litigation lawyer was Tom James. He was kind and helpful. He was great. He would talk to us anytime we needed. His paralegal Michele was awesome and always on deck to keep things together. The entire team worked to make sure we got the best settlement we could get under the Michigan laws. I would definitely recommend this law firm.
Terry McDaniel
from

Detroit
I was reading and I came across Michigan Auto Law. It seemed like it would be a good fit for me, being it's all about Michigan and I needed a lawyer because I was out of town when I had an accident. I knew I didn't have a good chance filing a lawsuit in the state I was traveling in, so I came to my home base of Detroit to find a lawyer. Brandon Hewitt helped me! It's quality first with Brandon. He treated me like a person and not a customer. The service is very family oriented in the way that the client is treated like family, not just anyone who walks in the door like KMart or Meijer's. Brandon did great litigating my case and proving my injuries. I'm very satisfied considering what was offered by the defense. Brandon even helped me with other legal issues not relating to my auto accident case. He was there and then some. Brandon is definitely recommended. If you want a good guy on your team, you definitely want Brandon.
George Jacklin
from

Waterford
My experience with Michigan Auto Law was simple. My attorney Brandon Hewitt took care of everything for me and I didn't have to worry. I wasn't going to sue at first. Then my insurance company said the vehicle that hit me did not have insurance. Yet another adjuster said they did have insurance. I had an ankle injury and I needed surgery. My biggest concern was healing and making sure I received what I was entitled to, especially since I was getting different stories from my insurance company. That was the reason I came to this law firm. I felt comfortable here all the time. Brandon contacted me when he needed information and everything went smoothly. He got me a settlement check that I'm happy with.
Kathy Osebold
from

Richmond
Michigan Auto Law told me that my job was to take care of myself and they were to take care of the lawsuit part. I didn't have to worry about a thing. My attorneys' major focus was for me to get better after my car accident. I appreciated that. Brandon Hewitt was my pre litigation attorney. I liked him a lot. He was thorough and helped me map out the plan of how to go forward with my lawsuit. Alison Duffy was my litigation attorney. I liked the fact that she was always available for me. She always returned my calls and e-mails promptly. She was very informative and always reassuring of what to do and what was going to happen next. I'm very satisfied with the way my settlement turned out. I have already recommended this law firm to two family members.
Russell McCardle
from

Muskegon
Everything with Michigan Auto Law was simple from the start of my case to the finish. I'm not a law person. But my lawyer Brandon kept things in normal terms that helped me to understand what was happening with my case. There was a lot about Michigan No Fault and my rights that I didn't understand at the time. Now I know thanks to Brandon taking the time to explain everything to me and get me through the litigation. Everyone here was friendly and helpful. I recommend Michigan Auto Law for people needing help after a car accident.
I was injured in a car accident in a company car that had very low car damage and the insurance company offered zero. They didn't believe my neck and shoulder injuries could be caused by the accident. Because of Michigan Auto Law's ability to set up my case with the proper documentation and closely working with the workers compensation attorney, I was able to obtain a higher settlement among the three claims: pain and suffering, no fault and workers comp. I had a team of attorneys: Robert Raitt and Alison Duffy. They always returned phone calls and I felt they truly cared. They were also straight shooters and told me like it was. I also had Brandon Hewitt for the pre-trial. He set up the case really well to get to the trial attorneys. From the very beginning when I signed up with Michigan Auto Law, they walked me through every step of my case. It was a very precise system. Because of that I received a $750,000 settlement between my lawsuits and I had $900 worth of damage on my car. This firm knows how to deal effectively with the complexity of intertwining lawsuits between car accidents and workers comp. That's what caused my insurance company to compensate me for my serious injuries. If anyone is injured in an automobile accident, whether a personal or a company vehicle, I highly recommend Michigan Auto Law. These attorneys understand the very biased laws toward insurance companies and they will do everything they can to protect you.
I was the passenger in a car accident and my mom found Michigan Auto Law online. I had medical bills and wanted to know about my rights. I went into it nervous, but when I called and talked to Brandon Hewitt, it wasn't overwhelming. It was more like talking to a friend. He took it upon himself to explain everything and made sure we left knowing what we needed to know. From there we decided to file a lawsuit for my back and shoulder injuries. Tom James was my second lawyer. Again, he was very knowledgeable. He kept at my complicated case, going at it from different angles, finding anything he could to get me the most for my pain and suffering. Everyone at this firm is so welcoming. I never had an issue calling and my needs were always met. If you want to feel like you're important and you're not just another case, I would definitely recommend Michigan Auto Law.
I have a traumatic brain injury from my car accident. It's a very difficult time in my life but my attorney Brandon Hewitt helped me through it. Brandon is a great attorney because he's a very good listener. He delves into things that allows you as a client to express what you think is important. He also knows the information that is most important to your situation and knows how to get those answers from you. He provides you with honest feedback. He makes no promises that he can't deliver on and is very straightforward. I've had multiple careers and when you're dealing with professionals, sometimes people can be a little too full of themselves. Brandon does not come off that way. He is genuine. He's not coming from a place where it's all about him. It's all about me as his client - during my case and even now that it is closed.
After my car accident, I was concerned about my injuries and loss of wages because I couldn't work. The people at Michigan Auto Law helped me out. They settled my case in a timely manner. My attorneys were easy to contact. I had Brandon Hewitt and Josh Terebelo. Fantastic guys, informed me about everything that would happen. Their advice was spot on. I would highly recommend Josh and Brandon.
I was in a rear end accident sitting at a red light with my sister. We believe the driver of the other car was texting. I had shoulder and low back injuries from the accident. I felt that I was due compensation because the girl was texting and because my husband had to leave his job to take care of me, creating great hardship for us. I called Michigan Auto Law looking for answers after another lawyer highly recommended the firm. I started out with Brandon Hewitt, who was fabulous. He started the litigation. Brandon was very kind, very informative. Then when my case went into lawsuit, became my attorney, and his paralegal Laurie. They both were very compassionate and very helpful in explaining what would happen going forward and what my rights were. They were always available to me. They were also very reassuring during depositions and things like that. I'm very satisfied with my settlement. Ian and Laurie worked hard to get the most amount coming to me. They were honest about the possibilities of what could happen, and I feel extremely comfortable with the both of them and the outcome of my case.
Rhonda Hubbard
from

White Lake
Josh Terebelo is a very down to earth attorney. He made me feel very comfortable. He took care of matters in my car accident lawsuit in a timely manner. I never felt pushed aside. My memory wasn't all that great from my injuries and he had compassion. He never made me feel different for that, and that was nice. Brandon was also a great attorney. Very warm and caring like Josh. Both were very helpful. The case was taken care of quickly. Josh was able to get it settled for a great amount rather than going to court. He worked very hard for me. I appreciate all that they have done for me.
I had a very pleasant experience with Brandon. He was a hard working attorney. He always kept me informed on everything I needed while everything was coming along with my auto accident case. He got no fault benefits (lost wages and medical) and pain and suffering for me. I would most definitely refer Brandon to anyone that I know that needed a great attorney.
Sharon Dowd
from

Davisburg
Brandon and Josh were wonderful attorneys. I have nothing but good things to say about them. They were fabulous and did everything they could for my family after we were all hurt in one car accident. We got t-boned by someone who ran a red light. They got us the best settlement possible and were always there for us when we needed them.
Robert Dowd
from

Davisburg
My wife, my daughter and I were in an accident in April of 2012. The gentleman who caused the accident had run a red light and my entire family was hurt. I found out about Michigan Auto Law from a close family friend. And now I know myself this is an awesome law firm. Between Brandon Hewitt and Josh Terebelo, I couldn't have had better lawyers. They were very prompt and took care of everything that was going on. They also made sure we understood what was happening. They got us everything they could from both parties of insurance. They've been super through this whole ordeal. It's been a great experience and they are still there for me even though the lawsuit has settled.
I got a fast settlement at Michigan Auto Law. I was told by other lawyers it would take 3-5 years but my pain and suffering settlement happened before the one year anniversary of my motorcycle accident. I got hit by a car when I was on a motorcycle and I was badly injured. I had a close friend that used Michigan Auto Law for her injury and she recommended this firm for motorcycle crashes because she had a great experience. I also had a great experience. I was treated very nicely by my attorney Brandon Hewitt. He was forthright and not evasive in his answers to my questions. He explained things in detail about the motorcycle accident law that were easy to understand, not all of the legal gobbledygook. I'm happy with Brandon and the settlement he got for me.
Darwin R.
from

Clinton Township
Hopefully I will never be in another motor vehicle accident. But if I had to recommend my family or friends to a highly competent, extremely accessible and unwaveringly committed law firm, Michigan Auto Law would be my choice. They will address your needs from a holistic standpoint. From the start of my lawsuit, my lawyer Brandon Hewitt really alleviated my anxiety because he explained the Michigan law to me, informed me and explained what was going to happen and why. He also provided me with other need to know items in order to start my lawsuit. Brandon was very pleasant, very cordial. He spoke intelligently of the lawsuit process, and reassured me on any experiences I would have on working with the insurance company. He answered questions honestly and openly, which cut against the norm of some attorneys who usually talk in legalese. He navigated me through the process without a hitch. Quick turnaround of e-mails and telephone calls. He even called me on a monthly basis to see how I was doing. Michigan Auto Law is a great law firm that helped immensely.
Sabrina Thomas
from

Warren
I was in a car accident and hurt my back. I called Michigan Auto Law because my insurance company cut off my wage loss. Everything fell into place when I talked to Brandon Hewitt. I chose him to represent me. He helped me through all the steps of my lawsuit. He always returned my calls and helped me understand what was happening in my case. Brandon is kind too. He settled my case and fought for me when my insurance company was trying to play games with my wage loss.
Tracy Bozeman
from

Ypsilanti Township
I was in a terrible accident. My van was totaled and the ambulance took me away. when I needed help, I turned to Brandon, a lawyer with Michigan Auto Law. he answered all of our questions. He was very attentive, even the first day that we met him. My husband called Brandon quite often and it was a never a problem. Brandon was a wonderful attorney and he was always there to help us
They treat me good at Michigan auto law. They did the best and I like Brandon Hewitt's work. I recommend Brandon. He is very nice guy and he was calling me all the time to see how I was doing. I'm happy with my settlement.
G. Foster
from

Grandville
Michigan Auto Law is excellent. My lawyer Brandon was very helpful, very personal and I felt like I had family in my corner. In my opinion he went far beyond the call of duty to help me after I was rear ended in my car. I was very happy with my settlement.
They work with you at Michigan Auto Law. It didn't take long and I liked that. The communication was good and the questions we asked the answers was available. Brandon was on top of things. He's a great lawyer. He knows what he is doing and takes care of his clients.
Dena Davis
from

Highland Park
I dealt with Brandon Hewitt and Josh Terebelo. Both of their services were professional. If I were to be in another car accident, I would come back to this law firm. They settled my case and they treated me very well.
Emily Williams-Nelson
from

Madison Heights
Even if countless other attorney offices turn you down, don t give up until you call Michigan Auto Law. I had two other attorneys tell me I didn't t have a case, but Michigan Auto Law took the time and did the research and realized I did have a case. They make you feel like you family. They call, they check on you. They talk and laugh with you. It is more personal and you needed that because you are scared to death in a car accident situation. My insurance company didn't t want to pay for me to go to the doctor. They didn't care. Brandon and Josh pretty much held my hand all the way through and they had to keep reassuring me. They kept fighting and my case was settled for a good amount.
Brenda Jefferson
from

Flint
Call Michigan Auto Law. Brandon was really, nice and courteous and friendly and kept me up on what s going on with the insurance claim. It was a nice overall experience since I've never been though anything like this.
Debra Stout
from

Stanwood
I would recommend Michigan Auto law, especially with Brandon. He was always good on keeping me informed on what was going on. I was never in the dark with this firm. Because hiring a lawyer was so new to me, he was very informative with things I wouldn't have thought of, like the fact that you can hire someone to come and clean your house for you if you are injured from a car accident. Brandon helped me get all my no-fault benefits. He would be sure to let me know my options, and everything was always my decision. he was very warm to speak with. It was a good experience.
Alex Maslak
from

Flushing
Very satisfied with the service. I was never kept in the dark about anything. I always knew what to expect. There weren't any surprises. Brandon was a great lawyer. He always kept me updated with my case.
Patricia Deronio
from

Rochester Hills
I had neck and back injuries after my auto accident and wanted to make I would be protected and that I could still take care of my two sons. My husband found Michigan Auto Law and that's how I met our lawyer Brandon Hewitt. He was very pleasant and thorough. He kept me up to date on where we were with everything and explained each step. I had never filed a lawsuit in my life and didn't understand what would be involved or how this accident would affect me in the future. I would recommend Brandon because he treated us well and did everything to make sure we had all of our bases covered. For instance, I didn't know about a lot of benefits I was entitled to under Michigan No-Fault, like gas to my medical appointments, or help cleaning the house because I was to injured to do that. Brandon made sure we got all of the benefits we could get. We were very happy in the end with everything Brandon did for us. Michigan Auto Law is a great firm.
John (David) Gibson
from

Dexter
When you are sitting at a stop light minding your own business and someone slams into you at 35 miles an hour, you don't know what to do. But Michigan Auto Law and my lawyer Brandon Hewitt helped me and my wife after we were rear ended. I would highly recommend this law firm. Brandon was very thorough and very efficient. I liked the fact that he returned my calls. I'm pleased with the way everything turned out. It was a lot quicker than we expected and the service was great.
Powered by
ReviewInc
Disclosure
The reviews displayed may or may not be a complete set. Reviews may be removed if they:
i. Are abusive. An abusive review or comment is one that makes personal attacks, threatens, or harasses others, or uses profanity.
ii. Violate privacy. Reviews that mention specific names of individuals or personal information in a manner that is inappropriate and/or unrelated to the performance of the service rendered are subject to removal.
iii. Are not from a current customer.
iv. Contain material falsehoods.
v. Are deemed inappropriate.
To encourage all feedback, positive or otherwise, an equal incentive for reviews, regardless of rating, may have been provided to the reviewer.
Google reviews provided via APIs https://www.google.com/+/policy/embedded-content.html